Sports
Bordelon leads Lake City past Moscow
Sat., Jan. 29, 2005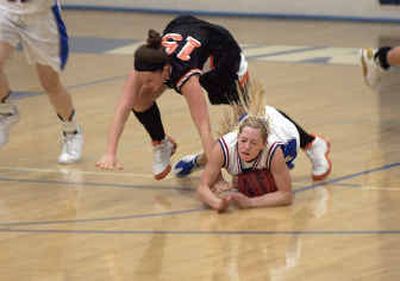 Renee Bordelon scored all nine of her points in Lake City's 21-point fourth quarter as the Timberwolves outlasted Moscow 47-36 in an Inland Empire League girls basketball game Friday night in Lake City.
Richelle Fenenbock led all scorers with 12 points and was 5 of 6 from the foul line in the fourth quarter for Lake City (11-7, 8-3). Kelsey Taylor led the Bears (8-12, 4-8) with nine points.
Lake City is the league's second seed in 5A state-qualifying play and will host No. 3 Lewiston in a loser-out game Tuesday at 7 p.m. with the winner heading to Coeur d'Alene Friday.
Moscow is the third seed in the 4A and will travel to the league's No. 2 seed Tuesday.
Coeur d'Alene 72, Post Falls 31: Coeur d'Alene's full-court pressure and up-tempo offense led to a 23-4 lead after the first quarter as the league-champion Vikings (16-3, 10-1) romped past the Trojans in Coeur d'Alene.
The Vikings finished with four players in double-figure scoring, led by Jenna DeLong's 16 points. Jenna Griffitts added 14 points, 12 rebounds and three steals and Deanna Dotts finished with 10 points, eight rebounds, two blocks and two steals for CdA. Sean Topp's eight points led Post Falls (2-18, 0-12).
Post Falls finishes as the Inland Empire League's fourth seed in the 4A and will travel to the No. 1 seed Tuesday
Intermountain League
Spartans smother Tigers
Priest River held Timberlake to just 11 points through three quarters as the Spartans (9-8, 5-0) walloped the Tigers (4-13, 0-6) 70-23 in Priest River. Calli Turner had a team-high 12 points for Post Falls, which was 38 of 54 from the foul line.
North Star League
Kootenai routs Mullan
Hanna Nyrop had 23 points and Cassie Scheffelmaier added 10 points and five assists as Kootenai (7-10, 5-2) built a 30-point halftime lead in a 66-32 rout over visiting Mullan (1-15, 1-7). Katlyn Valerio had 16 points for Mullan.
Non-league
Hnidzikova fells St. Maries
Anna Hnidzikova, a 6-foot-4 foreign-exchange student, was 10 of 14 from the field and finished with 21 points as Orofino led 14-3 after the first quarter and cruised to a 58-36 win over visiting St. Maries (7-10). Rachelle Solom had 12 points, 14 rebounds and three steals for the Lumberjacks.
Boys basketball
Kraack sparks Kootenai
Tony Kraack had 19 points to lead Kootenai (2-11, 2-4) to a 49-41 win over visiting Mullan (5-8, 3-3) in a North Star League matchup. Robert Goodson had six of his eight points in the second quarter and finished with 11 rebounds. Cory Pehan finished with 12 points for Mullan.
Washington boys basketball
Wesley leads Medical Lake
Steven Wesley scored 10 of his 22 points in the fourth quarter as Medical Lake outscored Chewelah 14-7 in the fourth en route to a 58-56 Great Northern League win at Medical Lake.
Wesley added 14 rebounds and Andrew Richardson chipped in with a season-high 21 points and nine rebounds for the Cardinals (10-3, 3-3). Michael McCanna, who missed a 3-pointer with five seconds left that would have given Chewelah the lead, and A.J. Proszek each had 12 for the Cougars (8-6, 3-3). … Riverside 51, Deer Park 38: Pat Smart was 10 of 14 from the foul line and finished with 16 points as Riverside (10-5, 5-2) held Deer Park to 21 points through three quarters in a win over the Stags (6-8, 1-5) in Deer Park. Smart was 6 of 8 from the foul line in the fourth quarter.
Panorama League
Kroupa leads Curlew
Cameron Kroupa scored 26 points and grabbed 17 rebounds as Curlew outscored Wellpinit 20-11 in the fourth quarter to secure a 61-51 win in Curlew. Tyler Carsons added 17 for the Cougars (12-5, 8-3). T.J. Flett led the way with 17 for Wellpinit (9-8, 7-5).
Local journalism is essential.
Give directly to The Spokesman-Review's Northwest Passages community forums series -- which helps to offset the costs of several reporter and editor positions at the newspaper -- by using the easy options below. Gifts processed in this system are not tax deductible, but are predominately used to help meet the local financial requirements needed to receive national matching-grant funds.
Subscribe to the sports newsletter
Get the day's top sports headlines and breaking news delivered to your inbox by subscribing here.
---