News > Idaho
Enjoy snow while you can on 'Best Hand Fun Ski'
Sat., Jan. 29, 2005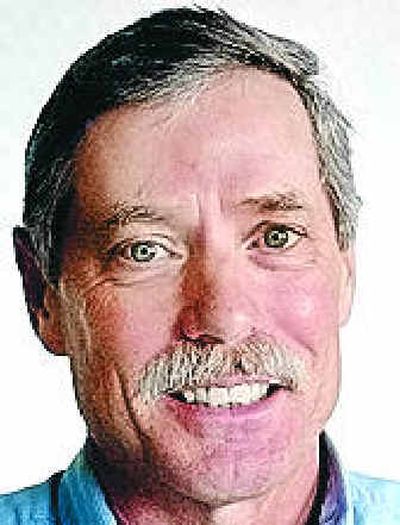 With on again, off again snow in Kootenai's backcountry, now is a good time to hit the trails before the spring thaw takes it all away.
An annual fun event next Saturday makes a journey to the Fourth of July pass especially timely and the higher elevation and resulting cooler temperatures offer the best hope for snowpack. The scenic area features groomed ski trails, a separate snowshoe course, plus two nearby access roads (not groomed) open to both modes of travel and your canine companions.
Jim McMillen, president of the Panhandle Nordic Club, invites all to join the annual "Best Hand Fun Ski" Saturday on the Fourth of July trails. Skiers and snowshoers (or if there is a lack of snow, walkers) travel a course of about 5 miles and are dealt five cards along the way, with the best hands wining various prizes.
Check-in for this event is from 11 a.m. to 12:15 p.m., with starts from 12:30 to 1 p.m. Entry fees are $7 for Panhandle Nordic Club members, $10 for nonmembers, $5 for kids 13 and under and $25 for a family of up to five, with proceeds funding trail maintenance and support of area Nordic skiing. Club information and membership applications are available at the ski hut.
Access from I-90: From Coeur d' Alene, drive east on I-90 for approximately 15 miles to the Fourth of July summit exit (exit 28), then take an immediate right for a quarter-mile to the Park N' Ski Area entrance (Park N' Ski Pass required – see information below). To access the ungroomed trails, backtrack from the parking area to the trail on the east side of the road. For the Fourth of July groomed trails, walk from the parking area west to the trailhead. A snowshoe trail drops from the ski trail to the right.
Length: Groomed trails consists of two main courses totaling more than 12 miles. The snowshoe trail is approximately 1.5 miles. Forest roads 614 and 905 offer unlimited trekking, with connections to other forest roads.
Elevation: The Fourth of July summit is 3,500 feet. Trails offer a number of hills and elevation changes.
Use: Moderate.
Trail conditions: Generally well-groomed conditions when there is enough snow. The trail quickly deteriorates in above-freezing temperatures, creating icy runs with bare spots.
Difficulty: Most of the groomed trails have level to 6 percent grades suitable for beginning to intermediate skiers. Watch out for the steep downhill runs on the "Loose Moose," "White Knuckles" and "Spencers." With a grade up to 15 percent, these trails are is suitable only for intermediate to advanced skiers.
Restrictions: No pets, snowshoes or foot traffic on groomed trails; watch for oncoming skiers on all trails – even those designed for one-way use; downhill skiers have the right of way; pack out all trash; all signs and posted warnings must be obeyed and closed trails must not be used.
What to see: Wildlife (if you come across a wild animal on the trail, stop and allow it to move off the trail), mountain views and big cedars.
Special features: Warming hut at the groomed trail entrance; restrooms at the parking lot.
Preparation: Free trail maps are available at the U.S. Forest Service, 3815 Schreiber Way, Coeur d'Alene, 765-7223 or the Fernan ranger office, 2502 E. Sherman Ave., 664-2318. Visit the State Parks Web site at www.idahoparks.org/rec/ ccskiing.html. Park N' Ski Permits are required to use the parking lot at the Fourth of July Ski Area. Permits are available in the Coeur d'Alene/Hayden area at the Army and Navy Store, Vertical Earth, All About Sports, Ski Shack and the Fernan ranger office, and in Kellogg at the Lookout Ski Shop. The Panhandle Nordic Club will sell permits next Saturday at the club's warming hut. Permits cost $25 for an annual pass or $7.50 for a three-day permit, and give the holder access to 11 Park N' Ski sites across the state. Funds from the permits are dedicated for improving cross country skiing areas in Idaho. Avalanches are not common in this area (part of the Fernan Ranger District), according to the U.S. Forest Service, but they can occur. Current backcountry conditions can be checked by calling (208) 765-7323, or the Web site, www.fs.fed.us/ipnf/visit/ conditions/backcountry.
For more information on the "Best Hand Fun Ski," or an update on Fourth of July trail conditions, call Jim McMillen at (208) 667-0222.
Gear: Layered winter clothes and snowshoes or cross country skis (or hiking boots if there is a lack of snow). Dressing for changing conditions and carrying drinking water and a first-aid kit are always good ideas.
Note: The Panhandle Nordic Club organizes ski trips and hiking events and grooms the Fourth of July trails. Club meetings are held the first Tuesday in the winter months in the basement of the Fernan ranger office at 7 p.m. New members and guests are always welcome. Contact Jim McMillen at 667-0222 or visit the club's Web site, www.panhandlenordicclub.com for more information.
Local journalism is essential.
Give directly to The Spokesman-Review's Northwest Passages community forums series -- which helps to offset the costs of several reporter and editor positions at the newspaper -- by using the easy options below. Gifts processed in this system are not tax deductible, but are predominately used to help meet the local financial requirements needed to receive national matching-grant funds.
Subscribe now to get breaking news alerts in your email inbox
Get breaking news delivered to your inbox as it happens.
---