News > Voices
Hot ticket tonight will be Knights vs. Titans
Sat., Jan. 29, 2005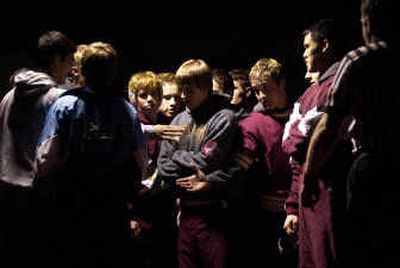 And now for the real Dream Dual.
Greater Spokane League divisional unbeatens East Valley and University were champions of their respective 3A and 4A Washington Dream Dual championships last weekend.
Tonight, the three-time defending Greater Spokane League wrestling champion Knights are seeking to make it four in a row at home against University.
"It's going to be a good one," EV coach Craig Hanson said a couple of weeks ago. "It's one of those ones that will be great for the fans. We're pretty anxious to keep (the streak) alive."
The Knights will be favored at 130 pounds and the top five weights from 160 pounds through 275. The Titans' strengths lie within the eight weights from 103 through 145.
But there will be plenty of suspense in those respective strongholds and the outcome could depend upon where the coaches choose to jockey their stars.
Among the possibilities are 112 pounds if Chase Fish from U-Hi tackles Joey Plumb from EV in a match between GSL unbeatens.
Knight Jared Imes will be favored at 130, but Titan Matt Machala will likely be there and is a tough customer. They are just two of the lower-middle weights where EV must make inroads. The 135 and 145 pound classes are the others.
In EV's upper weights strongholds, Fred Arnold could face U-Hi's Nick Zumwalt in a match of league unbeatens at 160.
Other pivotal weights in U-Hi's bid to unseat the reigning league champs are 152, where coaches' sons Tim Owen and Clete Hanson could square off, 171 and 189 pounds.
At 171 Titans Jon Sahlberg and August Pope are a combined 7-0 in league and EV's Jordan Jolley is 7-1.
EV's Dan Michalski and U-Hi's Joey Korn traded one-point decisions at 189 during the Jug Beck Rocky Mountain Classic in Missoula two weekends ago.
Both teams are capable of winning eight matches and the number of pins or major decisions either team gets will play into the outcome.
Postseason next week for area teams follows the championship showdown. But neither EV nor U-Hi is looking ahead.
"We're not looking past East Valley," U-Hi coach Don Owen said. "They match up real well with us. I'm just hoping we can wrestle to our ability the next three weeks."
U-Hi beat Central Valley 48-9 and East Valley beat Clarkston 48-16 to advance to tonight's title match, beginning at 7 p.m., for the second straight year. The Knights won 37-21 last year.
CV wrestles Clarkston for third place and fourth places for the second straight year, at 5 p.m. The Bears won last year 37-35.
Tourneys next for WV
West Valley's wrestling team finished with just one dual Greater Spokane League win and 13th overall in the 14-team league.
Yet, surprisingly, Eagles individuals had successful years.
In eight of 14 weights, wrestlers had had at least three wins among eight matches. Overall in league, they went 43-64 and had a glaring weakness only in the top three weights, 189 through 275.
Three weight classes, 145, where Jeff Degenhardt went 6-1 (and 7-1 overall), 130 with Seth Koker going 5-2 overall and 160, divided between Andy Vennum and injured Tim Pring, had winning records. And Jesse Swenson was 4-3 at 140 pounds, a break-even weight for WV this year.
The dual meet season is behind. Now, the tournament season, a time for individual achievement awaits. The 3A sub-regionals are next weekend at East Valley.
Bears share third
Central Valley gymnasts defeated Ferris 164.025-163.525 in its final gymnastics meet to finish tied for third place at 6-3 in the GSL and 10-6 overall.
The Bears were second in the meet behind league unbeaten Mead's 172.975 score, but Maya Morgan won first all-around with a 35.575 total.
Morgan won the balance beam and was second during vault. Teammate Maria Alderman won floor exercise.
University was at Lakeside Friday afternoon and if it beat the Eagles, Lewis and Clark and Mt. Spokane, the Titans would be part of a three-way tie for third with CV and the Saxons.
The postseason begins next week with district championships Friday at Mead.
Local journalism is essential.
Give directly to The Spokesman-Review's Northwest Passages community forums series -- which helps to offset the costs of several reporter and editor positions at the newspaper -- by using the easy options below. Gifts processed in this system are not tax deductible, but are predominately used to help meet the local financial requirements needed to receive national matching-grant funds.
Subscribe now to get breaking news alerts in your email inbox
Get breaking news delivered to your inbox as it happens.
---