News > Spokane
North Idaho businessman convicted
Sat., Jan. 29, 2005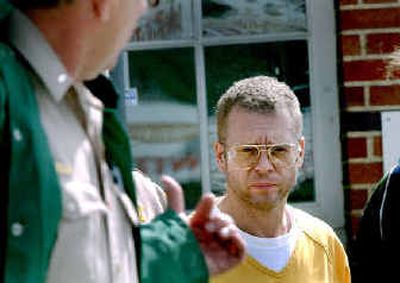 A wealthy North Idaho businessman with ties to the militia movement was convicted Friday on three counts of soliciting the murders of a federal judge, a prosecutor and an IRS agent involved in a previous tax evasion case against him.
David Roland Hinkson, called a "hard-core patriot" by his anti-government associates, faces up to 20 years in prison when he is sentenced in April for soliciting the murders of Judge Edward Lodge, Assistant U.S. Attorney Nancy Cook and IRS agent Steven M. Hines.
The 48-year-old multimillionaire, who lived in a rural area near Grangeville and owned a company called WaterOz, was convicted Friday in Boise following a three-week jury trial in U.S. District Court.
Defense attorney Wesley Hoyt said he would appeal the conviction.
"The evidence against Mr. Hinkson was presented by witnesses who had an economic stake in the outcome in the sense that they were seeking to take over his business or seeking large judgments from him," Hoyt told the Associated Press.
Trial testimony and evidence, including tape-recorded statements made by Hinkson to an informant, revealed he offered a $10,000 bounty for the assassination of each of the three federal officials.
Hinkson attempted to hire a hit man after he was indicted in July 2002 on multiple counts of income tax evasion, and later released pending trial. The solicitation was made to three individuals associated with a militia group known as the Idaho County Posse, federal investigators said.
The IRS agent investigated the income tax case against Hinkson, and Cook presented the case to a grand jury, resulting in the indictment. The case was assigned to Lodge.
Hinkson's and his militia friends' anger toward the federal judge began after Lodge dismissed a charge against an FBI sniper charged with the 1992 shooting death of Vicki Weaver at Ruby Ridge, Idaho.
The jury acquitted Hinkson of three other counts related to a separate solicitation to murder the same individuals and two counts of making threats against the immediate family members of the prosecutor and IRS agent.
"Trying to put a hit on a federal judge, a prosecutor and an agent is an egregious attack on our system of justice and the rule of law," Assistant Attorney General Christoper Way said in a statement released by the Department of Justice in Washington, D.C.
"We are grateful to the jury for recognizing this and providing justice for these victims who were simply doing their jobs in the pursuit of justice," Wray said.
Hinkson still awaits sentencing on a separate multiple-count conviction last summer for selling adulterated and misbranded drugs, and income tax evasion.
He was arrested April 4, 2003, by agents of the Inland Northwest Joint Terrorism Task Force, based in Spokane, and the Idaho County Sheriff's Department. He has been in jail since then.
Hinkson lived in rural Idaho County, near his manufacturing plant that produced, bottled and distributed WaterOz, an ionic water solution sold internationally through multilevel marketing.
The water product was bottled with various minerals and marketed with claims it could cure such maladies as AIDS, ringworm, multiple sclerosis, incontinence and cancer.
The case was prosecuted by Michael P. Sullivan and Michael Taxay of the criminal division of the Justice Department's headquarters. The U.S. Attorney's Office in Idaho was excused from the prosecution because the charges stated that one of its prosecutors was a victim.
The case was assigned to visiting Judge Richard C. Tallman because Lodge is a judge for the District of Idaho.
Local journalism is essential.
Give directly to The Spokesman-Review's Northwest Passages community forums series -- which helps to offset the costs of several reporter and editor positions at the newspaper -- by using the easy options below. Gifts processed in this system are not tax deductible, but are predominately used to help meet the local financial requirements needed to receive national matching-grant funds.
Subscribe now to get breaking news alerts in your email inbox
Get breaking news delivered to your inbox as it happens.
---