News > Pacific NW
Parents blamed for hacker's crime
Sat., Jan. 29, 2005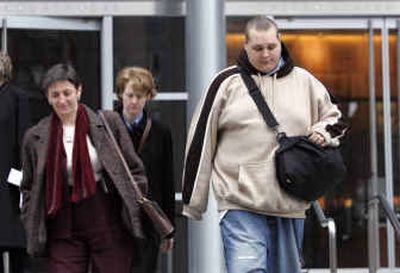 SEATTLE — A federal judge took pity on a Minnesota teen Friday, sentencing him to just a year and a half in prison for unleashing a variant of the Blaster Internet worm that crippled nearly 50,000 computers.
U.S. District Judge Marsha Pechman said Jeffrey Lee Parson's neglectful parents were to blame for the psychological troubles that led to his actions in the summer of 2003.
The Internet "has created a dark hole, a dungeon if you will, for people who have mental illnesses or people who are lonely," Pechman said. "I didn't see any parent standing there saying, 'It's not a healthy thing to lock yourself in a room and create your own reality.' "
Parson, 19, of Hopkins, Minn., pleaded guilty in August to one count of intentionally causing or attempting to cause damage to a protected computer. He admitted modifying the Blaster Internet worm and using it to launch a distributed denial-of-service attack against a Microsoft Windows update Web site as well as personal computers.
Versions of the Blaster worm, also known as the LovSan virus, crippled computer networks worldwide. The government estimates Parson's version inundated more than 48,000 computers.
Parson's lawyers said he used to be so fearful of social interaction that he hated to leave his home. They said he had made great strides since his arrest. They also credited him with making a Seattle School District video warning teens of the dangers of Internet vandalism.
Parson apologized to the court and to Microsoft, saying, "I know I've made a huge mistake and I hurt a lot of people and I feel terrible." He will still have to pay restitution to Microsoft and to people whose computers were affected in an amount to be determined at a hearing set for Feb. 10.
When Pechman asked him about making the video, Parson said: "Basically, I was trying to do something teenagers wouldn't just throw away. … I was extremely scared but I felt very good after it was done."
The judge imposed three years of supervised release following his prison term, during which Parson can only use computers for business and education — not video games or file-sharing or hacking. She told him to complete 100 hours of community service — 10 hours a month for 10 months — and said she would give him credit for SAT or other classes as long as he takes them with live people, not over the Internet.
Assistant U.S. Attorney Annette Hayes had asked the judge to impose a sentence at the high end of the 18- to 37-month range.
"The defendant has a long and well-documented history of malicious actions over the Internet," she said, citing an attack on the Recording Industry Association of America Web site. "That's really the equivalent of destroying a storefront so a business owner can't meet with his customers."
"Clearly he knew that what he was doing was wrong," Hayes said.
Pechman said she was sentencing him at the low end of the range because although he was 18 at the time of the attack, his maturity level was much younger than that.
Parson, who will serve his time at a low-security prison, had faced a maximum penalty of 10 years in prison and a $250,000 fine.
"What you've done is a terrible thing," Pechman told him. "Aside from injuring individuals and their computers you shook the foundation of the system."
"I learned a lot about you," she added. "Many of the mental-health problems from the household you grew up in contributed to this problem."
Parson was charged in Seattle because Microsoft is based in suburban Redmond.
Parson had been out of jail on a $25,000 pretrial bond pending sentencing. He was not allowed to leave his home in Minnesota except to go to work, or if supervised and preapproved by the court.
Local journalism is essential.
Give directly to The Spokesman-Review's Northwest Passages community forums series -- which helps to offset the costs of several reporter and editor positions at the newspaper -- by using the easy options below. Gifts processed in this system are not tax deductible, but are predominately used to help meet the local financial requirements needed to receive national matching-grant funds.
Subscribe now to get breaking news alerts in your email inbox
Get breaking news delivered to your inbox as it happens.
---