News > Nation/World
Posthumous citizenship granted to Marine
Sat., Jan. 29, 2005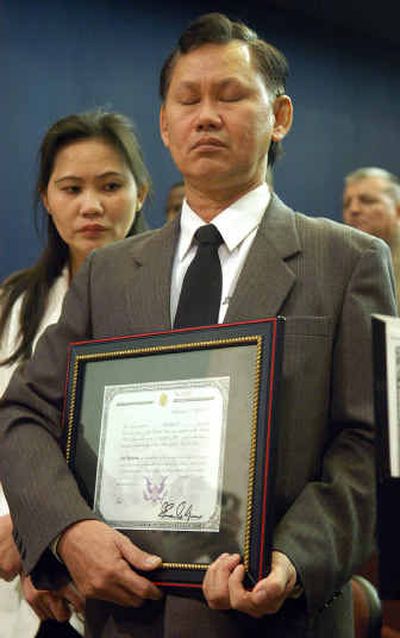 ARLINGTON, Va. – He was born in Vietnam and came to America at age 6. After growing up in northern Virginia, he joined the Marines even though he was not a U.S. citizen.
Cpl. Binh Le became an American on Thursday, but he could not attend the citizenship ceremony held in the shadow of the Pentagon. Last month, he was buried nearby in Arlington National Cemetery, the victim of a truck bomb in Iraq during a voluntary second tour of duty there.
Le, 20, grabbed his rifle when the truck packed with explosives attacked his military post Dec. 3. He had run to a position to fire on the driver and hold back the vehicle when it exploded. His commanding officer recommended him for a Silver Star.
"His final act of bravery saved the lives of others," Capt. Christopher J. Curtain wrote in a letter read at the ceremony. "I will be forever grateful for his heroism."
An estimated 37,000 citizens of other countries serve in the U.S. armed forces. Since the Iraq war began, 54 have been awarded posthumous citizenship.
Le was raised by his aunt and uncle in Alexandria, Va. His parents, Lien Van Tran and Kim Hoan Thi Nguyen, traveled from Vietnam for his funeral. They are divorced but would like to remain in the United States to be close to their son's grave, Nguyen said.
"There's no way to describe the pain," she said.
Rep. James P. Moran, D-Va., said he is working to offer citizenship to Le's parents, which could require congressional action.
"I think this is a compelling enough case that we can get a single bill for citizenship for his parents," Moran said. "They certainly deserve it."
Tran said they didn't have a problem with their son enlisting in the Marine Corps, but they wanted him to have time to attend college.
"His main concern was to join the military so that he could help protect the country he loved so much," Tran said.
Local journalism is essential.
Give directly to The Spokesman-Review's Northwest Passages community forums series -- which helps to offset the costs of several reporter and editor positions at the newspaper -- by using the easy options below. Gifts processed in this system are not tax deductible, but are predominately used to help meet the local financial requirements needed to receive national matching-grant funds.
Subscribe now to get breaking news alerts in your email inbox
Get breaking news delivered to your inbox as it happens.
---