News > Spokane
Women find share of fight in Iraq duty
Sat., Jan. 29, 2005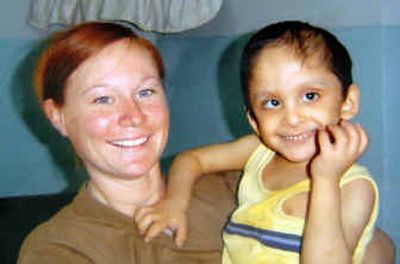 In years past, if you wanted to ignite a lively debate in mixed company, you threw down this grenade of a question: Should women be allowed in combat?
Feminists who believe, as I do, that women deserve the opportunity to fulfill their potential, often felt conflicted. Combat? So violent, so dangerous. Couldn't women just strive to be president or pope instead?
In Iraq, military women still are not technically allowed in combat units, but they are fighting on the front lines by default.
"In Iraq, there is no front line. It's right, left and everywhere," says Army Sgt. Kara Hines of Spokane. "Two teams coming over the hill and fighting in the center – it's not like that anymore. It's all open."
Hines just returned from a year in Iraq. She and her mother, Kathy Hines, stopped by the office this week with a personal story that illustrates how women are expressing their fighting potential on the battlefield.
At least 25 women soldiers have died serving in Iraq; one of them, a Humvee gunner, was in Kara's 759th Military Police Battalion. Neither that death, nor the many deaths last week in Iraq, have dampened Kara's belief that the United States should be over there.
"It's not a waste of lives," she says. "We all chose to be there. It's our job, our duty. None of it has been in vain."
Kara is 23. The 1999 graduate of Rogers High School played soccer for Spokane Falls Community College for two years. She was at a life crossroads when an Army recruiter called. Kara consulted her mom.
Kathy Hines is 47. She came of age during Vietnam when nurses seemed to be the only women we ever heard about serving in the military there. Kathy told her daughter to go for it.
"At that point, she wasn't going anywhere," Kathy says. "She was still living at home. She wasn't interested in more college."
Kara enlisted and trained as a supply specialist. By January 2004, she was in Iraq in a camp near Baghdad. Of the 1,200 soldiers in her battalion, about 100 were women.
Her days were long – and hot. She didn't mind, either. She was up at 6 a.m. She chugged down Red Bull energy drinks and then toiled in her office, sometimes until 11 at night. She ordered and accounted for the supplies and equipment needed by the soldiers living and fighting in her company.
Two times a week Kara traveled in a convoy to different camps to get supplies. She rode in a 5-ton truck or in a Humvee. She carried an M4 rifle. She was in only one firefight when the convoy was attacked by insurgents, but the convoy always traveled under the threat of roadside bombs.
Kara wishes she had seen more action. "It was something new and challenging," she says. "I had a lot of learning to do over there."
Kara learned that, although women still don't ride in tanks or serve in cavalry units, they are often in as much danger as the men. For instance, female military police officers patrol the same, dangerous routes as their male counterparts.
Kara rarely took a day off, but she did play on the camp's soccer team. She e-mailed home to family almost every day. And near the end of her tour, she re-enlisted for four more years in the Army. She's headed to Oklahoma City to work as a supply sergeant for a recruiting battalion. During her break in Spokane, she talked a woman acquaintance into joining the Army.
Kara's trip to an Iraqi orphanage sealed her belief that the war is a wise one.
"The (Iraqis) deserve a better life," she says. "They walk without shoes on. There are so many flies! They deserve cleanliness and health and to not be killed for reasons they don't even know."
At the end of our conversation, I still felt ambiguous about our role in Iraq, but less ambiguous about women's place on the front lines, because I better understand Kara's generation of women warriors. They want to be in the action. They're in it now. And more of them will die there. It's not pretty, but it's reality.
End of debate?
Local journalism is essential.
Give directly to The Spokesman-Review's Northwest Passages community forums series -- which helps to offset the costs of several reporter and editor positions at the newspaper -- by using the easy options below. Gifts processed in this system are not tax deductible, but are predominately used to help meet the local financial requirements needed to receive national matching-grant funds.
Subscribe now to get breaking news alerts in your email inbox
Get breaking news delivered to your inbox as it happens.
---