News > Idaho
Youth Advisory Council formed in CdA
Sat., Jan. 29, 2005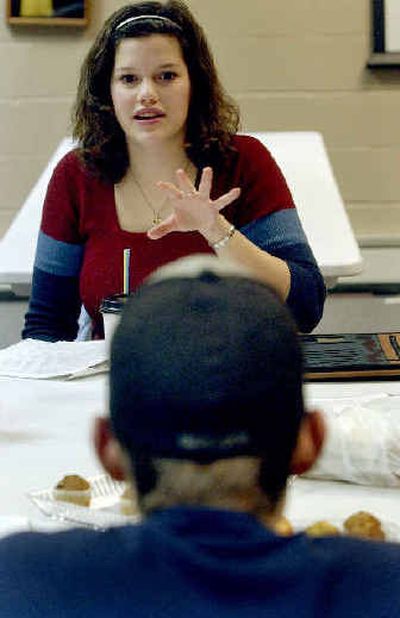 Coeur d'Alene's young people have a direct line to City Hall, thanks to the city's new Youth Advisory Council.
The 10-member group is brainstorming ways to get young people more involved in the community.
Formed by City Council decree on Jan. 4, the advisory group's purpose "is to promote the positive, physical, mental and social well-being of our youth and to inform the mayor and the council of its endeavors."
Chairperson Kate Henry, a 17-year-old Lake City High School junior, said the council hopes to create another layer of communication between the youth of the community and the adults.
"We go through the school system, we have that whole experience, but we don't understand all the politics behind things," Henry said.
She hopes the council can figure out a way to include youth in a positive way in the community and help city leaders understand high schoolers' perspective on life.
"All our different experiences add a different tint to our lens," she said. Once youth council members agree on projects, they will present updates and reports at City Council meetings. The group, with the help of assistant city attorney Ann Eckhart, has already established bylaws. The adult liaison is Victoria Bruno, the city's project coordinator. The advisory council has been provided a list of developmental assets in the community to help guide its work, Eckhart said. The 40 developmental assets include family support, other adult relationships, service to others, positive peer influence, youth programs, time at home, school engagement, honesty, integrity, interpersonal competence,and self-esteem.
Youth Advisory Council members were chosen from lists of students provided by the school district and the Coeur d'Alene Charter Academy. Council members can be age 14 to 18, and they serve from August to August, to accommodate graduating seniors who will be moving on.
Lake City High junior Elden Stokes wanted to be on the board to get involved in the community.
"This or student council is a good learning experience," Stokes said. "I want to see how our city works."
Jake Bryan, an LCHS sophomore who is the advisory council's secretary, is approaching his service as a new experience. He is concerned about responsible growth in the community. Jordan Keough, a Charter Academy junior, said the chance to serve interested him, but he also noted that he was "drafted" to serve.
In its infancy, the council has yet to establish definite projects, but members have brainstormed quite a few ideas, such as adopting a highway, or cleaning up City Beach. The council is allowed to raise money and could get city funding for projects with City Council approval. The advisory panel's first meeting was Jan. 20 in City Hall.
Hamilton, who plans to major in political science in college, said she wants youth to feel more valued in the community.
"Since I've been a community member for so long, it's nice to be given the opportunity to give something back and to serve," she said. "It's a neat experience."
Local journalism is essential.
Give directly to The Spokesman-Review's Northwest Passages community forums series -- which helps to offset the costs of several reporter and editor positions at the newspaper -- by using the easy options below. Gifts processed in this system are not tax deductible, but are predominately used to help meet the local financial requirements needed to receive national matching-grant funds.
Subscribe now to get breaking news alerts in your email inbox
Get breaking news delivered to your inbox as it happens.
---