News > Spokane
Convention Center faces more rivals for less demand
Sun., Jan. 30, 2005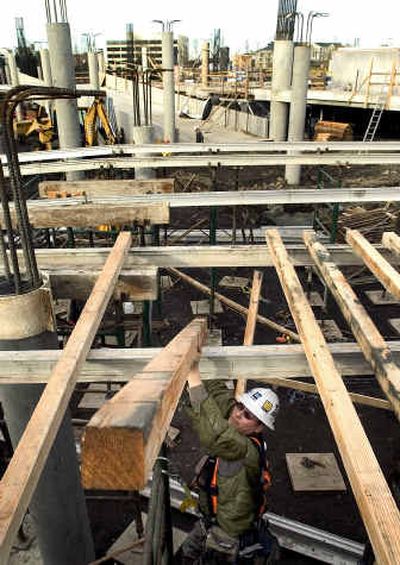 As Spokane and dozens of other cities race to build or expand convention centers, a new study shows stagnant attendance and revenues at conventions nationwide.
The study by the Brookings Institution, a Washington, D.C.-based think tank, also shows that larger convention centers are expanding in an effort to attract smaller and medium-sized conventions, similar to the ones Spokane targets.
"While small centers get bigger in order to accommodate bigger events, bigger centers are getting bigger in order to accommodate small and medium-sized events simultaneously," wrote Heywood Sanders, author of the study and a professor in the Department of Public Administration at the University of Texas at San Antonio. "The result of that convergence is that meeting planners are finding a vast increase in the venues open to them."
The study found that exhibit hall space nationwide has grown from 40.4 million square feet in 1990 to 60.9 million in 2003. Meanwhile, attendance at the largest 200 conventions and trade shows dropped from a high of 5.1 million in 1996 to slightly more than 4 million in 2003.
Attendance declines were attributed to industry consolidations, reductions in business travel and improved telecommunications that eliminate the need for travel.
Smaller, regional events
Local convention-industry officials say the report isn't relevant to Spokane because the city operates in a much smaller market, attracting mostly regional events. Also, Spokane's facilities are so small that business has been turned away, they say. Between 1995 and 2004, about 37 events were lost because of a lack of space or available dates, according to the Spokane Regional Convention and Visitors Bureau. Those events represented an economic impact of $63 million, the bureau's statistics show. The city needed to expand the Convention Center just to keep up with demand, supporters say.
The $55 million expansion project will boost the Convention Center's exhibit space to about 100,000 square feet, up from 39,000 square feet now. Money for the project was approved by voters in May 2002. It's expected to be finished in mid-2006.
"We wouldn't have the 2007 U.S. Figure Skating Championships here but for that new Convention Center," said Shaun Cross, former chairman of the Spokane Public Facilities District board, the organization that manages the Convention Center. "But for that new Convention Center, we wouldn't have made the final three, let alone gotten the bid."
Statewide competition
However, Spokane County's economic development director cautions against dismissing the Brookings Institution study. Erik Skaggs, who also served on the board that approved the final financing package for the expansion, urges those overseeing the project to be sure it's marketed appropriately and equipped with the latest technology. He foresees potential revenues from video-conferencing and a strong marketing hook based on the center's unique location along the Spokane River.
"The report was a good opportunity for us to take a moment of pause and review our marketing strategy and be sure we have positioned our expansion the best we can," Skaggs said. "Some of the information in that report is debatable. I don't take it all as the gospel, but I do think it gives us a clearer snapshot. I do believe the report is applicable to Spokane."
So does Sanders, the study's author. He said cities in Washington face a unique challenge following legislative action in 1999 that gave medium-sized cities the ability to access state funds to build new convention centers. That set off a spate of building as nearly a dozen cities decided to build or expand meeting facilities. Among the cities that launched expansion or new building projects were Tacoma, the Tri-Cities, Lynnwood, Vancouver and Yakima.
"You have a situation where in almost every one of those centers, they are looking to target state and regional events," Sanders said Friday. "Whether there is sufficient demand to accommodate all of that new space is the big question mark."
Sanders said the smaller, local events also result in lower revenues, because fewer visitors are from out of town.
Cross acknowledged that Spokane faces increased competition statewide, but he said the city shouldn't choose to fall behind. "By keeping up, we want to maintain our position as the second-largest market in the state," Cross said. "We don't want to allow Wenatchee and the Tri-Cities to pass us."
Upswing ahead?
In the past four years, Spokane has seen a decline in Convention Center attendance and related hotel room stays, said Keith Backsen, vice president of the convention and visitors bureau. He blamed the drop on the economy and the ripple effects of the Sept. 11 terrorist attacks.
He said he remains confident of Spokane's ability to attract its share of groups, however.
"We will still be a state and regional market with the ability to attract some national groups," Backsen said. "(The expansion) should really help us be able to do some simultaneous groups and to help groups outgrowing our destination."
In addition, 2004 estimates show that convention business may be on an upswing, said Johnna Boxley, general manager of the Convention Center and Opera House. Conventions had an estimated economic impact of $26 million in 2004, she said. That was up from a dismal performance in 2003 of only $18 million, which Boxley attributes to the economy.
"What we're really seeing now is that that is on the upturn," she said. "We're also starting to see more people returning."
Local journalism is essential.
Give directly to The Spokesman-Review's Northwest Passages community forums series -- which helps to offset the costs of several reporter and editor positions at the newspaper -- by using the easy options below. Gifts processed in this system are not tax deductible, but are predominately used to help meet the local financial requirements needed to receive national matching-grant funds.
Subscribe now to get breaking news alerts in your email inbox
Get breaking news delivered to your inbox as it happens.
---