Sports
Frye sizzles during Senior Bowl victory
Sun., Jan. 30, 2005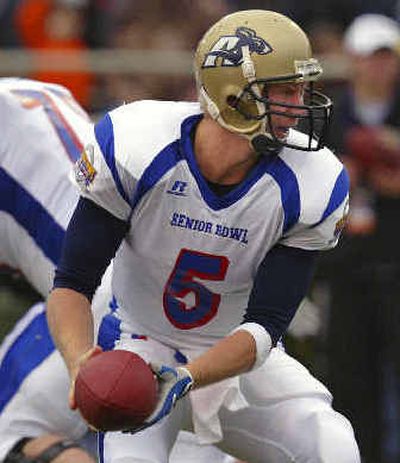 MOBILE, Ala. – Charlie Frye made the most of the opportunity when he finally got a chance to play in the postseason.
The Akron quarterback was nearly flawless in the Senior Bowl on Saturday, completing 10 of 12 passes for 138 yards and a touchdown to lead the North to a 23-13 victory over the South in an audition for top senior NFL prospects.
Frye seized the spotlight after his Zips were the 57th team in the NCAA's 56-team bowl sweepstakes, the only eligible team snubbed by the bowls. But he downplayed any effect Saturday's performance had on his hopes of becoming the next Mid-American Conference quarterback to make it in the NFL.
"I'm not worried about that," Frye said. "I just came in here to have fun and I just look forward to having a chance to play in that league."
The game capped a weeklong audition for top NFL prospects and wound up showcasing lesser-known players such as Akron's Frye and the game's smallest player, Kansas State's Darren Sproles, who's trying to prove he can play in the NFL.
The 5-foot-5 Sproles outplayed bigger tailbacks, darting through the middle for 24 yards and the game's first TD with 10:07 left in the third quarter, immediately ripping off his helmet to celebrate the score.
His goal for the week "was just to show people that I could play, that it doesn't matter what my size is," said Sproles, who had 55 yards on five carries and was selected North offensive player of the game.
Frye, selected the Most Valuable Player, hit Northwestern's Noah Herron with a 22-yard TD pass in the final minutes to cap his performance.
Purdue's Kyle Orton was 6 of 13 for 51 yards and was intercepted on his opening series. The other North quarterback, Connecticut's Dan Orlovsky, was taken to the hospital before the game with the flu, according to game officials.
Ohio State's Mike Nugent, the Lou Groza Award winner as the nation's top kicker, booted field goals of 25, 36 and 41 yards. Frye was impressed by his fellow Ohio product.
"If you get it inside the 40, he's not going to miss," said Frye, who set up one field goal with a 40-yard pass to Stanford tight end Alex Smith.
Oregon State's Bill Swancutt was North defensive player of the game.
Jason Campbell of Auburn completed 9 of 13 passes for 116 yards and set up two field goals by Mississippi's Jonathan Nichols to earn top offensive honors for the South. Clemson's Leroy Hill was the team's defensive player of the game.
Georgia's David Greene hit former Arkansas star Matt Jones, a college quarterback who played receiver in the game, with a 5-yard TD pass with 1:05 to play. Greene, Division I's winningest quarterback, was 11 of 16 for 102 yards.
J.J. Arrington, California's 2,000-yard rusher, had five carries for 9 yards for the North.
Campbell, who led the Tigers to a 13-0 record and a No. 2 finish after three up-and-down seasons, also had another drive going early, but West Virginia's Kay-Jay Harris fumbled away a handoff.
Local journalism is essential.
Give directly to The Spokesman-Review's Northwest Passages community forums series -- which helps to offset the costs of several reporter and editor positions at the newspaper -- by using the easy options below. Gifts processed in this system are not tax deductible, but are predominately used to help meet the local financial requirements needed to receive national matching-grant funds.
Subscribe to the sports newsletter
Get the day's top sports headlines and breaking news delivered to your inbox by subscribing here.
---