News > Nation/World
Sweden's oldest twins embark on 2nd century
Sun., Jan. 30, 2005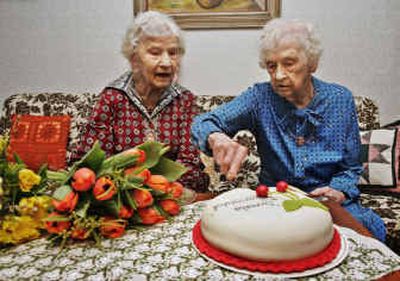 STOCKHOLM, Sweden – They have lived for 200 years between them, but Sweden's oldest twins had never seen anything like this before.
Holding up a birthday cake and two bouquets of flowers, Siri Ingvarsson and Gunhild Gaellstedt seemed bewildered by the media attention and the photographers huddled around them in the living room of Gaellstedt's apartment.
"Why do they need five photographers?" Gaellstedt asked. "Do they not think we'll stick on the film?"
Turning 100 today "isn't that big of a deal," Ingvarsson said. "Not much different from turning 99."
Still, Ingvarsson and Gaellstedt – who walk without any assistance and do all their daily chores themselves – did their best to answer questions they've grown tired of.
No, they repeated time and again, they don't have a secret formula for long life.
"We like to joke and say it's because we lived only on turnip back in 1914," Gaellstedt said. "That's all we had to eat during the world war. The first one, that is."
Aside from when they gave birth – they each had one child – Gaellstedt is the only one who has ever been hospitalized. She broke her thigh bone two years ago, but recovered quickly, she said.
Ingvarsson, who is 30 minutes older than her sister, said she has never been seriously injured or ill.
"I have a toe that aches, though," she said.
In a country where senior citizens have access to free home-help service, the sisters do their own shopping, cleaning, cooking and laundry. They have lived in the same apartment building for more than 50 years, Ingvarsson on the second floor and Gaellstedt on the third. The building has no elevator, and the sisters have no trouble getting up and down the stairs every day.
Ingvarsson's son, Stig, said the sisters' active lifestyle is probably why they've aged so well.
"They're on the go all the time," he said. "And they get natural exercise from walking up the stairs."
Stig Ingvarsson, a 62-year-old clockmaker who has lived in Boston since 1969, said today's birthday party will be small, with only the closest family. Many friends and loved ones have died long ago.
Stig doubts he'll match his mother's feat.
"I already feel like I'm 100," he said.
Sweden, a country of 9 million, has more than 86,000 pairs of twins, but Ingvarsson and Gaellstedt are "by far" the oldest, said Nancy Pedersen, a professor who researches twins at the Karolinska Institute in Stockholm. The institute keeps a national record of all Sweden's twins.
"It's very, very unusual that two twins both live to be 100," Pedersen said.
The oldest female twins in the world were Kin Narita and Gin Kanie of Japan. Both sisters died in 2000 at the age of 107, according to Guinness World Records.
The Swedish sisters said they're not trying to beat that record and haven't made any plans for their 101st birthday yet.
"We don't know if we'll still be alive then," Gaellstedt said. "We may fall down dead tomorrow."
Local journalism is essential.
Give directly to The Spokesman-Review's Northwest Passages community forums series -- which helps to offset the costs of several reporter and editor positions at the newspaper -- by using the easy options below. Gifts processed in this system are not tax deductible, but are predominately used to help meet the local financial requirements needed to receive national matching-grant funds.
Subscribe now to get breaking news alerts in your email inbox
Get breaking news delivered to your inbox as it happens.
---