News > Features
The move to New York was a felicitous one for Keri Russell
Sun., Jan. 30, 2005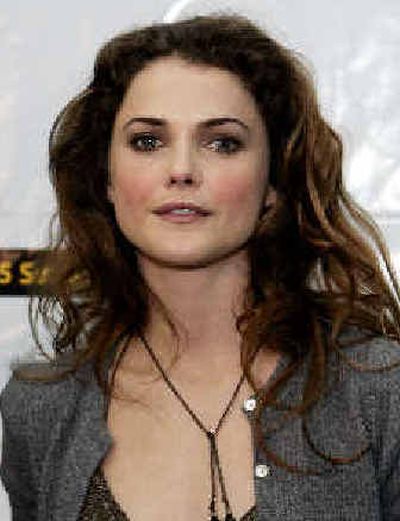 When "Felicity" began in fall 1998, its winsome heroine was finishing high school in California. Then, on a lark, she enrolled in college in distant New York City.
When the TV series ended in 2002, star Keri Russell did much the same thing: She left California, where the show had been produced, and took off for Manhattan.
There she gave herself a much-needed break. No pre-dawn call times. No lines to learn. No studio bosses prescribing the length of her hair.
Then, after a year and a half, Russell got back to work. She made a film, two TV movies and her stage debut.
One of her TV projects, "The Magic of Ordinary Days," airs tonight at 9 on CBS. The tender "Hallmark Hall of Fame" drama set during World War II stars Russell as a pregnant grad student sent away by her father to wed a lonely farmer (Skeet Ulrich).
"It's a delicate, slow process of awakening for her," says Russell, 28. "I think the most fun thing is watching these two people fall in love."
She wasn't so fired up about acting when she hit town nearly three years ago.
"After 'Felicity,' I just wasn't interested in anything," Russell says. "Acting is too fun of a job to feel like that. So I needed to step back and reassess the situation."
She hung out with old friends, "great girlfriends, who aren't in the business." She read, roamed Central Park, lingered over coffees at a neighborhood cafe – and fell in love with New York.
"This city has been great for me," Russell says. "Being here really kind of saved my life."
For those who've forgotten, "Felicity" was that season's most talked-about new show, with Russell tapped as TV's new sweetheart well before the premiere.
At first, she says, it was "fun and exciting, but then it got really hard. I was kind of going with it: 'Where do they need me to be? OK. I'm there.' … I was just trying to get through the day."
Then, just before the second season, Russell cut her hair. She can now laugh (and does, heartily) at the uproar over the shearing of her fabled mane, which was blamed for a dip in the show's ratings.
"I don't regret any of it, of course," she declares. "But I got really tired after four years of that. I had to just take off."
Then came fall 2003, when "the way I knew I wanted to go back to work was: I was reading scripts that interested me."
Russell went to London to shoot "The Upside of Anger," a dark comedy also starring Joan Allen and Kevin Costner, which opens in March.
Late last spring she traveled to Alberta, Canada, for "The Magic of Ordinary Days." Soon she was back in the same locale for "Into the West" – a six-part epic about the settling of the American West that will air on TNT this summer.
"Living in New York," she says, "kind of distances me from the business, from doing things because I think I should, so I can ask myself: 'Do I want to do that part? Yeah, it sounds like fun.' "
The birthday bunch
Comedian Dick Martin is 83. Actor Gene Hackman is 75. Actress Tammy Grimes is 71. Actress Vanessa Redgrave is 68. Singer Marty Balin (Jefferson Airplane/Starship) is 63. Musician Phil Collins is 54. Comedian Brett Butler ("Grace Under Fire") is 47. Country singer Tammy Cochran is 33. Actor Christian Bale is 31. Actor Wilmer Valderrama ("That '70s Show") is 25. Actor Jake Thomas ("Lizzie McGuire," "AI") is 15.
Local journalism is essential.
Give directly to The Spokesman-Review's Northwest Passages community forums series -- which helps to offset the costs of several reporter and editor positions at the newspaper -- by using the easy options below. Gifts processed in this system are not tax deductible, but are predominately used to help meet the local financial requirements needed to receive national matching-grant funds.
Subscribe now to get breaking news alerts in your email inbox
Get breaking news delivered to your inbox as it happens.
---