News > Spokane
Construction costs rise sharply
Fri., July 1, 2005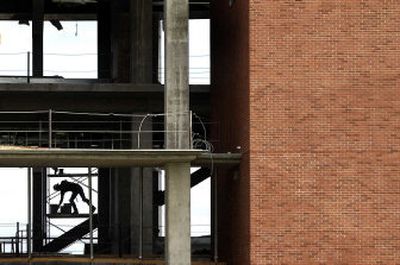 When bids went out in February for work on a new science building at Spokane Community College, officials were nervous.
The price of concrete, steel, rebar and other construction materials had soared. Colleges and universities around the country were seeing multimillion-dollar increases on their projects – in the midst of a multibillion-dollar building boom.
Then the bids came in 10 percent under the estimate.
"We were pleasantly surprised," said Butch Slaughter, district facilities project manager for the Community Colleges of Spokane.
But baffled. CCS had somehow landed in the right spot on the roulette wheel of higher education construction – their timing, the market and a bit of luck had worked in their favor. Slaughter said he's still not sure exactly why.
On other campus projects around the region, the opposite has happened – the sudden and steep rise in prices over the last year outstripped budgets and forced project changes. And though the price increases have eased somewhat, prices remain high and planning for the next round of university and college construction will be affected, university and construction industry officials say.
"Now we're looking down the road – what else?" said Keith Bloom, facilities quality assurance manager at WSU. "Well, the next what else is gypsum drywall products."
The increased cost of concrete, steel and other materials forced WSU to scale back some of the options for the Spokane Academic Center, a $26 million project at the Riverpoint campus. But Bloom said the project missed the biggest spikes in concrete prices.
"We were able to plan our way through it," he said.
The university's next major project, a $32 million nursing school at Riverpoint that is scheduled for a 2008 opening, could see an additional $1 million in materials costs, said Bob Askins, vice president of Graham Construction and Management, which is the general contractor on several higher education projects in the region.
Meanwhile, the price of funding future projects rises. Bloom said the university's proposed research center in Pullman is getting more expensive as WSU awaits state funding.
The Legislature didn't pony up the $57 million for the building during the last session. Bloom said inflation and materials prices could add $10 million to the project cost in the next two years, by the time lawmakers take up the capital budget again.
By the end of last year, steel prices had risen 31 percent over the previous 12 months, according to the Engineering News-Record, a construction industry publication. Reinforcing bar – rebar – prices last September were 41 percent higher than the previous year.
"It was really an unprecedented increase in prices," said Bob Askins, vice president of Graham Construction and Management. "And it happened very quickly."
The steepest price increases have given way to a steady, overall rise of between 5 percent and 6 percent over the last 12 months, Askins said. Steel prices, however, have come down about 20 percent since January.
College campuses have been in the midst of a building boom. According to College Planning and Management magazine, colleges and universities finished projects worth $13.7 billion last year, and will complete projects worth $14 billion this year.
In Washington state, the 2005 Legislature approved $890 million for construction projects on virtually every campus statewide. In Idaho, campus construction projects worth more than $60 million were approved just two years ago.
Officials mention several possible reasons for the spike in materials costs, ranging from higher fuel prices to building booms in China and India. A particular challenge for higher ed construction, officials say, is the long planning timeline and the unpredictable nature of state funding from year to year.
"It's a little bit of a crystal ball," said Askins, who's worked on campus projects for more than 25 years.
The new science building at SCC has an overall cost of $15.7 million, and is slated for completion next May. The next major project for the community colleges is the $20.3 million business and social science building at Spokane Falls Community College. Bids that include materials costs will be made in early 2006, and contractors will be watching prices closely as they prepare their bids.
"We don't know what overall impact there's going to be at this point," Slaughter said.
University building officials say the rising costs haven't broken budgets, but have required them to eliminate alternatives or scale back plans in some cases – which is part of their contingency planning.
Shawn King, associate vice president for facilities and planning at Eastern Washington University, said the price increases of up to 30 percent on some materials affected some of the change orders on the school's new Computing and Engineering Science building. The $26 million project is slated to open this fall.
"Now, the biggest thing is concrete," King said, noting that prices are high and supplies are low.
King and others note that concrete shortages mean that projects may sometimes have to wait days or weeks for delivery.
At Whitworth, the timing was fortunate, as well. The school's last major building project, Weyerhaeuser Hall, was completed last August, and its next one – a new residence hall – is scheduled to begin construction in October, said Steve Thompson, director of capital projects.
"We might get lucky on this one, too," he said.
Local journalism is essential.
Give directly to The Spokesman-Review's Northwest Passages community forums series -- which helps to offset the costs of several reporter and editor positions at the newspaper -- by using the easy options below. Gifts processed in this system are not tax deductible, but are predominately used to help meet the local financial requirements needed to receive national matching-grant funds.
Subscribe to the Coronavirus newsletter
Get the day's latest Coronavirus news delivered to your inbox by subscribing to our newsletter.
---