News > Spokane
Valley Christian secures homes
Sat., July 2, 2005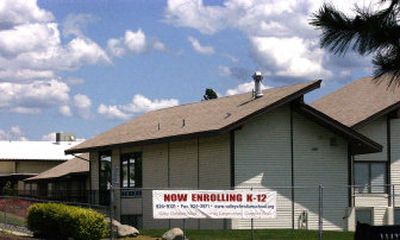 The building may be empty, but the sign hanging on the chain-link fence outside Valley Christian School says "now enrolling."
Despite having lost the lease on the school building that has been home to the small Spokane Valley private school for more than 30 years, school officials announced this week that two buildings have been secured to accommodate all 300 students in grades kindergarten through 12 in the fall.
Valley Assembly of God Church at 15618 E. Broadway Ave. has agreed to house all students in grades kindergarten through six, said Jeff Smith, school board chair.
A tentative agreement has been made with Valleypoint Baptist Church, 714 S. Pines Road, as a possible site for grades seven through 12, Smith said.
In order to preserve the strong athletic programs at the high school, the school also agreed to lease space at the Sports USA complex for $5,000 a year. Basketball and volleyball games will be held at the site.
"We have a plan in place, and we're trying to ease some uncertainty," Smith said.
The school was forced to relocate from its current location on Bowdish Road when the church that owns the school building – Valley Fourth Memorial – terminated the lease with the school in May.
Among concerns cited by the church include allegations that the school's head administrator covered up abuse by a former boys basketball coach.
Wes Evans and the former coach, Steve Altmeyer, are both subjects of an ongoing state investigation.
"(The church) communicated that they were looking for some changes, and yes, the Mr. Evans issue was a part of it," Smith said. "But that was not the only thing that caused them to make the decision that they made. It happened more abruptly than we would have liked, but we knew it was coming."
Smith said school officials are also looking into another possible site for the middle and high school grades, but he refused to say where that site was out of fear of retribution from a group of parents that has been pushing for more than a year to have Evans removed from the school.
Part of that campaign included asking the church elders to give the school board an ultimatum: fire Wes Evans or terminate the lease agreement with the school.
"We don't want anymore undue pressure from them," Smith said of the parent group. "They put pressure on the church where we had the lease before, and we don't want them putting pressure where we are going next."
Melanie Rose, a spokeswoman for the Central Valley School District, said Valley Christian has informally expressed interest in leasing the old University High School site, now referred to as University Center.
Since the new U-Hi opened in 2002, the 20-plus acre site at 10212 E. Ninth Ave. has been used as temporary housing for students as Central Valley continues to remodel its school buildings. The Central Valley board voted last month to offer the site for lease.
The building would only be available for two years, when Central Valley plans to begin a second set of remodels.
School officials hope the current move is the last until a new school can be built on a 34-acre site that Valley Christian owns on Barker Road north of Interstate 90, Smith said.
A capital projects committee is gearing up to start collecting funds to build a school for as many as 800 students on that site, Smith said.
So far, just fewer than 300 students are enrolled for the next school year, down from the 393 students enrolled at the beginning of last year.
Smith said two staff members have already been laid off because of declining enrollment.
"It's been a very frustrating time for everyone," said parent Joseph Pallaria.
The father of two teenagers moved his family to the Spokane Valley last year to be nearer to Valley Christian School. On Thursday, he and his wife decided their children would not go back.
He cited problems with leadership and an uncertain future.
"I told Wes Evans that my children are in the middle of their high school years where they need opportunities to get ahead in life," Pallaria said. "They cannot receive that at this school right now."
Local journalism is essential.
Give directly to The Spokesman-Review's Northwest Passages community forums series -- which helps to offset the costs of several reporter and editor positions at the newspaper -- by using the easy options below. Gifts processed in this system are not tax deductible, but are predominately used to help meet the local financial requirements needed to receive national matching-grant funds.
Subscribe now to get breaking news alerts in your email inbox
Get breaking news delivered to your inbox as it happens.
---