News > Idaho
Dad says reunion a high point of life
Mon., July 4, 2005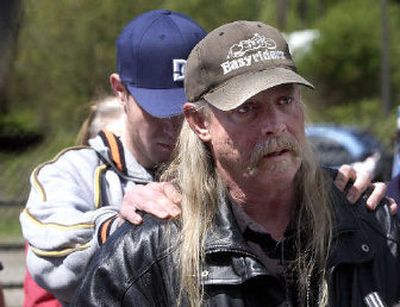 Steve Groene says being united with his daughter, Shasta, on Saturday was "one of the happiest moments of my life."
Groene made his comments during an exclusive interview with Fox television personality Geraldo Rivera in a live appearance Sunday evening.
"When I walked in the door, her face just lit up and she put her arms out and said, 'Daddy, Daddy.' It was one of the better moments in my life," he told Rivera through a satellite hookup from the Kootenai County Fairgrounds.
Shasta Groene, 8, was spotted at the Coeur d'Alene Denny's restaurant at about 1:30 a.m. Saturday with convicted sex offender Joseph E. Duncan III, 42, of Fargo, N.D.
Her brother Dylan Groene, 9, still is missing and believed dead. Both children disappeared at the same time their mother, brother and mother's boyfriend were bludgeoned to death in their Wolf Lodge Bay area home either May 15 or May 16.
Duncan is in custody on a charge of kidnapping and a fugitive warrant. Shasta is in Kootenai Medical Center, recovering and being interviewed by investigators.
"She looks real good," Steve Groene said in the Fox interview. "She's very upbeat. She acts just like the little girl I saw three weeks before she disappeared."
Groene had left Coeur d'Alene late Friday to visit his sister in Tacoma. He arrived at about 1 a.m. and about an hour later got the call from a Kootenai County sheriff's detective that Shasta had been found, according to his brother-in-law, Bob Price.
"No sooner did he get here and go through the niceties and the phone rings," Price said. "Needless to say, it was hugs and excitement."
Price's son drove Groene back to Coeur d'Alene. Since the reunion at about 10 a.m. Saturday, he has spent nearly all day and night with his daughter.
Groene is hoping for another reunion with Dylan, he said, although authorities are not optimistic.
"We still do have very high hopes," Groene said. "I would not give up hope anyway until I had absolute proof."
He said he has not asked Shasta about what she has gone through. "She needs to address that on her own time, on her own terms."
Rivera's exclusive interview with Groene came as an unpleasant surprise to other national media outlets and local journalists covering the story.
Since Shasta was discovered, the fairgrounds, where Kootenai County sheriff's Capt. Ben Wolfinger holds daily briefings, has filled up with nearly a dozen satellite trucks and is crawling with between 40 and 50 reporters, producers and photojournalists.
Many are from the Spokane and Coeur d'Alene area, but national broadcasters also have sent or hired reporters to cover the story.
Groene, however, has remained elusive, often not answering his cellphone and causing excitement when seen leaving the hospital for a smoke.
When he showed up Sunday evening at the fairgrounds for a live stand-up on Rivera's "At Large" news show, other reporters and photo journalists looked on in dismay.
After the interview, about 25 journalists crushed around him with TV cameras and microphones as he squeezed into the passenger seat of a black Toyota sedan.
"Will you talk to the local media?" someone asked.
He answered a few questions fired at him, but his answers were short and often cut off by the next desperate question.
In contrast, Groene wished Rivera a happy birthday, and Rivera promised to smoke a cigar with Groene when Dylan is found.
Local journalism is essential.
Give directly to The Spokesman-Review's Northwest Passages community forums series -- which helps to offset the costs of several reporter and editor positions at the newspaper -- by using the easy options below. Gifts processed in this system are not tax deductible, but are predominately used to help meet the local financial requirements needed to receive national matching-grant funds.
Subscribe to the Coronavirus newsletter
Get the day's latest Coronavirus news delivered to your inbox by subscribing to our newsletter.
---