News > Features
Shalhoub's having fun, even with the 'Monk' moments
Mon., July 4, 2005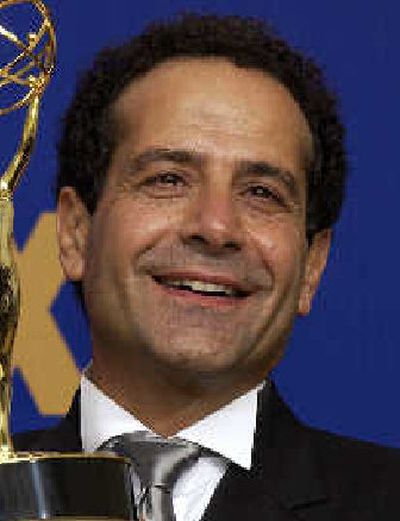 "Monk" see, "Monk" do.
Three seasons as phobic detective Adrian Monk have left actor Tony Shalhoub in a slightly similar state of obsessive-compulsive disorder. Human contact sometimes prompts a germ of an idea. A picture hooked crookedly can also unnerve him.
"I never had a problem shaking anyone's hands before. But now I have that horrible little thought going through my head," Shalhoub says in a telephone interview. "I wish I could get rid of that. And I find myself bothered by things that aren't exactly straight. I think the compulsion is kind of growing in me."
Still, the veteran actor is enjoying the fruits of full-blown success after a second-banana stint on NBC's "Wings" (as cabbie Antonio Scarpacci) helped springboard him to what likely will be his lifelong signature role. "Monk," returning for a fourth season on Friday, remains the highest-rated series in the 25-year history of the USA cable network. It has won Shalhoub both an Emmy and a sometimes manic "Monk" following.
"People talk about 'Monk Moments' and 'Monking out,' " he says. "I try to stay off the Web sites where they kind of deconstruct every moment and obsess about the show. I'm glad that people are feverish about it, but for me it's healthier to keep a kind of distance."
USA again has ordered 16 episodes of "Monk," which will be served in two doses. Some fans were confused by last season's split shift and the sudden departure of Monk's loyal assistant, Sharona Fleming, played by Bitty Schram. Here's how it went:
Season 3 started on June 18 of last year, with nine episodes shown through Aug. 20. Then "Monk" vanished until Jan. 21 of this year, as did Sharona. The show resumed with Traylor Howard ("Two Guys and a Girl") cast as Monk's new ally, Natalie Teeger. What happened to Sharona? For Monk's purposes, she had relocated to New Jersey to remarry her ex-husband.
The off-screen story is that Schram wanted more screen time.
"It was kind of a mutual thing," Shalhoub says. Schram "had become kind of disenchanted with it and wanted to pursue other things. So it was time for a change … We had a really difficult time finding someone who was not the same as Sharona and yet still had the same kind of vibe."
Friday's Season 4 opener features an engaging guest appearance by Jason Alexander, whose rumpled detective, Marty Eels, keeps one-upping Adrian Monk during a murder investigation.
Alexander knows something about typecasting. Nine seasons as George Costanza on "Seinfeld" can be tough to shake.
"It's always a two-edged sword," Shalhoub says. "I don't really worry about the stigma of being identified with just one part. I still pursue film projects, I still want to do theater. I don't want to just sit back and not explore other areas."
There has been talk of a "Monk" feature film, he says.
"I'm having the time of my life. I can't imagine a better scenario for myself right now."
The birthday bunch
Conductor Mitch Miller is 94. Advice columnist Abigail Van Buren is 87. Actress Eva Marie Saint is 81. Playwright Neil Simon is 78. Singer Bill Withers is 67. Percussionist Ralph Johnson of Earth, Wind and Fire is 54. Percussionist Domingo Ortiz of Widespread Panic is 53. Singer John Waite is 50. Guitarist Kirk Pengilly of INXS is 47.
Local journalism is essential.
Give directly to The Spokesman-Review's Northwest Passages community forums series -- which helps to offset the costs of several reporter and editor positions at the newspaper -- by using the easy options below. Gifts processed in this system are not tax deductible, but are predominately used to help meet the local financial requirements needed to receive national matching-grant funds.
Subscribe now to get breaking news alerts in your email inbox
Get breaking news delivered to your inbox as it happens.
---