News > Idaho
Shasta must overcome grief, trauma
Mon., July 4, 2005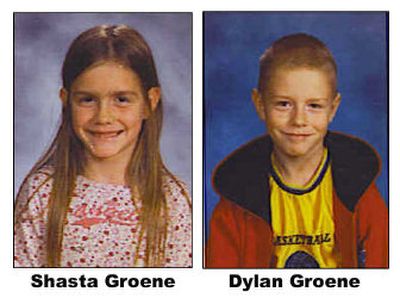 Now that Shasta Groene has been found, the 8-year-old has the dual challenge of overcoming intense grief over her loss, and her exposure to violence, according to victims' advocates.
"Often people say young children are resilient," said Jenny Wieland, executive director of Washington-based Family and Friends of Violent Crime Victims. "That's true, but they are extremely traumatized if they witness a violent crime."
Law enforcement officers say the Fernan Elementary student and her 9-year-old brother, Dylan, were likely at home when their mother, older brother and mother's boyfriend were bludgeoned to death more than a month and a half ago. A nationwide search was launched for Shasta and Dylan.
The search for Shasta ended early Saturday when she was spotted at the Coeur d'Alene Denny's restaurant with a high-level sex offender. Dylan is likely dead, according to local authorities.
Investigators have interviewed Shasta, but they haven't elaborated on what the girl may have witnessed or what abuse she may have suffered at the hands of her alleged captor, 42-year-old Joseph Edward Duncan III.
"She's a little girl who's been through who knows what in the last six weeks," said Kootenai County Sheriff's Capt. Ben Wolfinger.
Children who witness or are victims of violence or sexual abuse are at risk of developing post-traumatic stress disorder, according to the American Academy of Child and Adolescent Psychiatry. The nonprofit organization said children with post-traumatic stress disorder may be haunted by memories of traumatic events, have frightening dreams and can even develop physical and emotional symptoms if they're reminded of the experience.
Other symptoms of post-traumatic stress disorder include everything from worrying about death to problems sleeping or concentrating.
Being victimized "undermines very basic human needs," Wieland said, such as "the need to feel safe, being able to trust and the ability to rebuild relationships."
Healing is something that will take Shasta time, Wieland said, adding that the experience isn't something "that she's ever going to get over."
Polly Franks of the National Coalition for Victims in Action said Shasta is going to need a lot of love and support from her family. She said it's important that her friends and family put aside thoughts of anger and revenge to focus on helping Shasta.
"As much as people want their pound of flesh from Duncan, the people around her are going to have to put her needs first," Franks said.
The diners and waitress at the Denny's who spotted Shasta said they recognized her picture from the hundreds of missing child posters and the near-daily news reports since her disappearance.
Franks said Shasta will likely receive a lot of attention, both from the media and the community.
"Part of it, I think, is unavoidable because it's such a high-profile story," Franks said. "As much as humanly possible, she's going to need to fade back into the woodwork. She's going to have to have some form of normality."
Wieland said it's important to shield Shasta from the media and to try and get her back into some sort of routine.
As for the young friends of Shasta and Dylan, or even other children who hear about the stories in the news, Wieland said it's important that adults answer questions honestly without going into details.
"Make sure that they have a sense of security," Wieland said, "and know that this is not an everyday occurrence."
Local journalism is essential.
Give directly to The Spokesman-Review's Northwest Passages community forums series -- which helps to offset the costs of several reporter and editor positions at the newspaper -- by using the easy options below. Gifts processed in this system are not tax deductible, but are predominately used to help meet the local financial requirements needed to receive national matching-grant funds.
Subscribe to the Coronavirus newsletter
Get the day's latest Coronavirus news delivered to your inbox by subscribing to our newsletter.
---