Sports
Don't blame McMillan for Seattle's mistake
Fri., July 8, 2005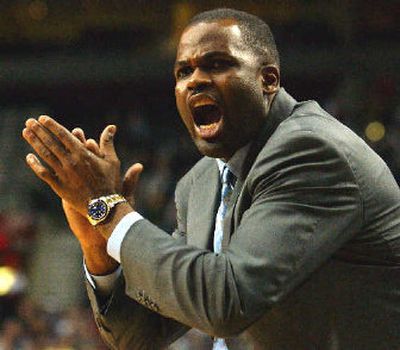 SEATTLE – The Sonics blew it.
They blew it last summer when they wouldn't talk to him about a contract extension.
They also blew it last summer when they ignored his request for another puzzle piece.
Although he hid it well all season long, Nate McMillan coached angrily last season. He felt like he won despite the front office, not because of it.
The Sonics blew it.
They blew it last November and December when they wouldn't re-open talks early in the year when the team shocked the NBA with its quick start. When they treated McMillan like some wayward son who needed a carrot in front of him to assure he would work hard.
And they blew it this summer when they low-balled McMillan, opening the door for another team to swipe him from Seattle.
In a very public ceremony, in the beautiful Washington Park Amphitheater, overlooking downtown Portland Thursday afternoon, the Trail Blazers stole a celebration away from Seattle.
They, not the Sonics, announced Nate McMillan as their head coach. They, not the Sonics, have shown how much they value McMillan.
Nobody in the NBA did a better job of coaching last season than McMillan. He took a team of free agents and unproven kids to the NBA's Northwest Division championship.
He won 52 games, beat the Sacramento Kings in the first round of the playoffs and took the eventual NBA champion San Antonio Spurs to six games in the Western Conference semifinals.
The way the team was configured was a formula for disaster. Eight free agents, a second-year point guard, no quality centers. Somehow McMillan, with the help of free agent Ray Allen, put it together.
He should have been rewarded in December. The Sonics should have called a news conference and celebrated McMillan's success.
They should have announced an extension in front of a big crowd before a game and shared the moment with their fans.
But they didn't. They allowed McMillan, a Sonic for the past 19 years, to coach as a lame duck.
Late Wednesday night, they allowed him to walk.
Terms of the five-year deal were not announced, but it is believed McMillan will make at least 50 percent more than the Sonics' best offer.
Some fans will feel betrayed by McMillan, thinking he took the money and ran to Portland. They will feel the man whose uniform hangs from the KeyArena rafters chose greed over loyalty.
They will be dead wrong.
It is the Sonics who weren't loyal to McMillan. They didn't get him players when he asked for help. They didn't honor his success at the end of this season. They played up his love for Seattle and figured they could low-ball him because of that love.
They blew it.
Because they let his contract expire last week, the Sonics allowed McMillan, 40, to become the hottest, youngest available coach on the market.
They did everything but enter him in this weekend's Seattle-to-Portland bike race. They did everything but nominate him to be the Grand Marshal in Portland's Rose Parade. They practically bought him a first-class, one-way ticket out of town.
McMillan had to take the money. No coach this side of Phil Jackson can turn down an offer that is expected to be in excess of $6 million per year, especially a young coach coming off the best season of his career.
The Trail Blazers offered him what the Sonics wouldn't – respect.
He can stay in the Northwest. He can keep his family in Seattle and he occasionally still can watch his son, Jamelle, play his junior season at O'Dea High School in Seattle.
All the goodwill from Tuesday's signing of free agent Allen evaporated with this shocking news Wednesday night.
Now the Sonics are faced with the coaching search they absolutely didn't want to make.
Who will replace McMillan?
The logical choice is Phoenix assistant Marc Iavaroni. He has been ready to become a head coach for several seasons. He was groomed by Miami's Pat Riley and he coached an up-tempo style in Phoenix that was similar to the Sonics.
He is a friend of Sonics president Wally Walker and, like Walker, played his college ball at Virginia. Because this would be his first head coaching job, Iavaroni would come relatively cheaply, which means the money the team saves on coaching salaries could be plowed back into the roster.
Iavaroni should be at the top of the list.
Others to consider are former Minnesota coach Flip Saunders, who probably would be too expensive; San Antonio assistant P.J. Carlesimo, who probably would be too combative; and a long shot, TNT analyst Doug Collins.
Thursday was a great day for Nate McMillan, as hard working a player and coach as the league has seen.
McMillan has earned this moment in the sun among the roses in Portland.
Thursday was a sad day for Seattle, which lost one of its own to the dreaded enemy 180 miles to the south.
Local journalism is essential.
Give directly to The Spokesman-Review's Northwest Passages community forums series -- which helps to offset the costs of several reporter and editor positions at the newspaper -- by using the easy options below. Gifts processed in this system are not tax deductible, but are predominately used to help meet the local financial requirements needed to receive national matching-grant funds.
Subscribe to the sports newsletter
Get the day's top sports headlines and breaking news delivered to your inbox by subscribing here.
---