News > Business
Investors stay calm; Dow up 31
Fri., July 8, 2005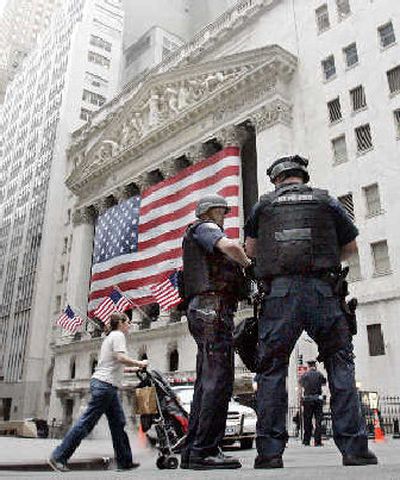 Surprisingly calm investors pushed stocks modestly higher Thursday, helping Wall Street recover from steep early losses after the London terror attacks that killed at least 40 people and injured more than 700.
Investors took heart after the homeland security secretary said there was no "specific credible evidence" of a pending attack in the United States. A sharp drop in oil prices also helped the markets rally.
Traders said the timing of the London attacks, several hours before the start of trading in New York, allowed investors to overcome any knee-jerk reactions to the news. Jay Suskind, head trader at Ryan Beck & Co., noted that buy orders quickly entered the market as stocks sold off at the opening bell, and the markets made steady gains throughout the day.
In response to the attacks in London, investors sent biotechnology and biodefense shares higher. Human Genome Sciences Inc. gained 36 cents to $12.18, while Hollis-Eden Pharmaceuticals Inc. rose 34 cents to $7.90.
Airline stocks dropped sharply, however, as investors feared further terrorist attacks. U.S.-traded shares of British Airways dropped $1.55 to $46.32, while American Airlines parent AMR Corp. was down 14 cents at $12.08 and Delta Air Lines Inc. lost 10 cents to $3.38.
"Unfortunately, this is the world we live in now. Five years ago, the market would have been down much more. Now, we see it as a buying opportunity," Suskind said. "There's no panic."
The Dow Jones industrial average climbed 31.61, or 0.31 percent, to 10,302.29. The Dow had fallen more than 103 points in the first hour of trading.
Broader stock indicators also recovered to post gains for the day. The Nasdaq composite index rose 7.01, or 0.34 percent, to 2,075.66, while the Standard & Poor's 500 index was up 2.93, or 0.25 percent, at 1,197.87.
The major indexes opened about 1 percent lower, but climbed steadily through the session, jumping higher around noon as Homeland Security Secretary Michael Chertoff commented that there was no evidence of a terrorist threat in the United States.
Europe's markets suffered sharp losses, but investors were hopeful after European stocks regain some ground in late trading. Britain's FTSE 100 fell by as much as 4 percent, but recovered somewhat and closed 1.36 percent lower. France's CAC-40 fell 4.5 percent before recovering to a loss of 1.39 percent for the session, and Germany's DAX index was down 1.85 percent.
"American investors are not only reacting emotionally, they're trying to figure things out, trying to determine the economic impact of what happened," said Ken Tower, chief market strategist for Schwab's CyberTrader. "When you're not at the epicenter, that's easier to do. There were many more cooler heads outside of New York after 9/11, after all."
In addition, U.S. markets have become somewhat used to the threat of terrorism after the Madril rail bombings of 2004 and deadly attacks the previous year in Morocco, Turkey and Saudi Arabia that were all linked to al-Qaida.
"A certain amount of this is built in to the market," Suskind said. "And sad to say, when it's overseas and isn't targeting financial institutions, the markets can recover pretty quickly."
Global markets operated normally, with even the London Stock Exchange closing at its normal time. European Central Bank President Jean-Claude Trichet said he had discussed the situation with Federal Reserve Chairman Alan Greenspan and Bank of England head Mervyn King and concluded financial systems were working normally. "We are alert, we are vigilant," he told a news conference. Treasury Secretary John Snow added that the Bush Administration would keep close tabs on global markets.
The Nasdaq Stock Market said it increased security efforts at its New York headquarters and its data center in Connecticut. A New York Stock Exchange spokesman said the Big Board does not comment on its security measures.
Advancing issues outnumbered decliners by more than 9 to 7 on the NYSE, where preliminary consolidated volume came to 1.95 billion shares, compared with 1.89 billion on Wednesday.
The Russell 2000 index of smaller companies was up 1.03, or 0.2 percent, at 649.30.
In other overseas markets, Japan's Nikkei stock average fell 0.12 percent. The markets there closed before the London attacks occurred.
Local journalism is essential.
Give directly to The Spokesman-Review's Northwest Passages community forums series -- which helps to offset the costs of several reporter and editor positions at the newspaper -- by using the easy options below. Gifts processed in this system are not tax deductible, but are predominately used to help meet the local financial requirements needed to receive national matching-grant funds.
Subscribe now to get breaking news alerts in your email inbox
Get breaking news delivered to your inbox as it happens.
---