News > Nation/World
Lessons of 9/11 mark response to London blasts
Fri., July 8, 2005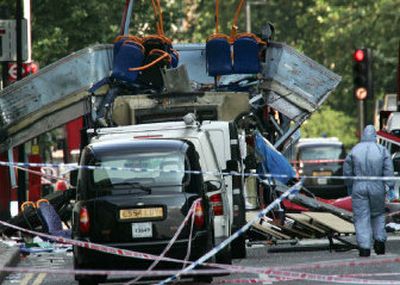 WASHINGTON – Aftershocks from the subway and bus bombings in London traveled across the Atlantic Ocean almost instantly Thursday as federal, state and local officials mobilized to prevent similar attacks in the United States.
Like a scene out of a James Bond movie, President Bush turned briefly aside from an international summit in Scotland to enter a specially equipped hotel suite, where he conducted a secure video conference with his national security advisers back home.
In New York and Washington, police with bomb-sniffing dogs fanned out in subway systems within minutes of the London explosions.
The Homeland Security Department raised the threat level for mass transit systems across the country from yellow to orange, just one notch below the highest alert on the five-tier warning system.
The fast response showed how much has changed in the almost four years since the Sept. 11 attacks, but no one claimed that the precautions offered anything close to full protection from terrorists.
"The war on terror goes on," Bush said in Scotland.
The president learned of the bombings from British Prime Minister Tony Blair during the opening session of the G-8 summit, an annual gathering for leaders from eight of the world's largest industrialized nations. Blair is hosting this year's meeting at the Gleneagles golf resort, but he returned to London after the blasts.
Officials traveling with Bush moved quickly to make sure that the relevant agencies in Washington were on alert for possible attacks on American targets. U.S. embassies around the world were warned to be extra vigilant about security.
After wrapping up the morning session at the G-8, Bush retreated to his traveling command center in a suite that had been equipped in advance for just such an emergency. The facility, staffed by military communications experts, brought state-of-the-art technology to a Scottish resort that's so old school the guest activities include falconry.
The president got updates from Homeland Security Secretary Michael Chertoff, National Intelligence Director John Negroponte and other top security advisers. White House spokesman Scott McClellan said Bush planned to remain in Scotland until the summit concludes today. He'll be back in Washington by tonight.
Local officials across the country also reacted quickly to the news from overseas. Morning commuters in virtually every major city saw more police on subway platforms and rail stations. Authorities in New York and Washington, cities still considered top targets for terrorism, were among the first to take action.
"Immediately, you could see the difference. I saw police all over," said Joseph Ryan, a security consultant and the head of the criminal justice department at Pace University in New York. "The more everyone is alerted, the better off and the safer we'll be."
New York Gov. George Pataki deployed state police officers on commuter trains heading into the city and granted full police power to officers from New Jersey and Connecticut traveling into New York from their states. Other police agencies beefed up security at New York ports, bridges and tunnels.
Coast Guard and police patrol boats escorted the Staten Island Ferry on its runs to and from Manhattan. The New York Police Department dispatched four of its counterterrorism specialists to London.
"We know all too well what London is experiencing," New York Mayor Michael Bloomberg said.
Police in the nation's capital were also on high alert. Officers on the overnight shift were told to stay on the job Thursday, and shifts for all officers were extended to 12 hours. Heavily armed officers strolled subway platforms.
Police Chief Charles Ramsey consulted by telephone with his counterparts in Los Angeles, Chicago, New York and London. Despite the precautions, Washington Mayor Anthony Williams urged residents to go about their business.
"If we cower in fear, if we go and hunker down in a basement somewhere, the terrorists win," Williams said at a news conference. "Live your lives, go to work, spend time with your families, stand up to these terrorists."
Local journalism is essential.
Give directly to The Spokesman-Review's Northwest Passages community forums series -- which helps to offset the costs of several reporter and editor positions at the newspaper -- by using the easy options below. Gifts processed in this system are not tax deductible, but are predominately used to help meet the local financial requirements needed to receive national matching-grant funds.
Subscribe now to get breaking news alerts in your email inbox
Get breaking news delivered to your inbox as it happens.
---