News > Idaho
Noise citations sounded death knell for Gramma's
Fri., July 8, 2005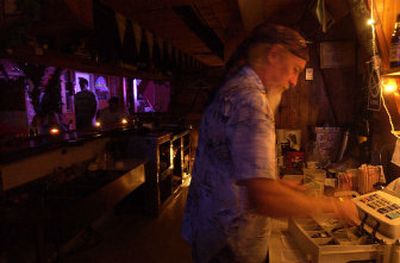 It's been a week since a Coeur d'Alene restaurant closed its doors after receiving eight disturbing-the-peace citations for noise, but the owner is still confused over what happened.
"I don't understand why other people are allowed to do it and I'm not," said Stan Hancock, whose Gramma's Backyard Style BBQ used to play live music. "I feel I've been unjustly prosecuted and chased out of business."
People in the neighboring residential district complained about the noise coming from the restaurant, highlighting the friction sometimes caused by having commercial and residential areas side-by-side.
From the business-owner's perspective, Hancock wanted to be able to attract more patrons with blues music.
He said he tried to keep the sound contained by covering the building with Styrofoam, boarding up some windows and keeping doors closed during performances, yet he kept receiving citations.
He said he cannot afford to keep paying legal fees. Also, every time the police showed up at his restaurant, he said he saw customers leave and never come back.
So, he closed shop a little more than a year after opening.
From the residents' perspective, Michelle and Douglas Savor just wanted some peace and quiet.
"We don't want to keep calling the police, we don't want to keep bothering them, but we do want to get some sleep," Michelle Savor told The Spokesman- Review last month.
Chris Copstead, a former planning commissioner for the city, said cases like this are why he advocated having buffer zoning.
For example, having a low commercial district – such as one containing office buildings – between a high commercial district and a high residential district.
However, Copstead – who happened to visit the restaurant for the first time on its closing night – said people should know about the area in which they're planning to live and be willing to put up with its surroundings.
"It's not different from someone buying a house near an airport and complaining about the noise," said Copstead, who lives near a freeway and the music-playing bar Chillers.
As for Hancock's complaint that he was singled out, the city attorney's response is that disturbing-the-peace citations are complaint-driven.
"You could be 100 times louder than this guy was, but if no one complains, we're not going to check it out," said Mike Gridley, who did not handle the case. The city prosecutor who was on the case is on vacation.
Hancock has the right to have a business and play music, Gridley said, "but you can't do it and disturb the peace of the neighbors next door."
Still, bar owners in the area were puzzled that Gramma's had closed as a result of repeated citations.
Although some of them – like Chillers co-owner Chris McFarland – had received complaints, they had never been cited.
"It kind of surprises me because I've never heard noise come out of there, and I'm here all the time," said McFarland, whose bar is across the street from Gramma's.
"Some people are more sensitive to it than others, I guess."
Local journalism is essential.
Give directly to The Spokesman-Review's Northwest Passages community forums series -- which helps to offset the costs of several reporter and editor positions at the newspaper -- by using the easy options below. Gifts processed in this system are not tax deductible, but are predominately used to help meet the local financial requirements needed to receive national matching-grant funds.
Subscribe now to get breaking news alerts in your email inbox
Get breaking news delivered to your inbox as it happens.
---