News > Nation/World
Bond blasts Bush on civil rights
Mon., July 11, 2005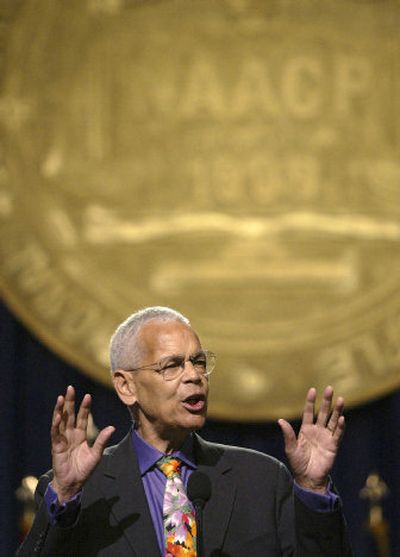 Milwaukee Renewing his attack on conservatives and the Bush administration Sunday, NAACP chairman Julian Bond accused national leaders of rolling back past civil rights gains, crippling efforts to battle racism and undermining democracy.
"The president likes to talk to the talk, but he doesn't walk the walk," Bond told members at the annual convention of the National Association for the Advancement of Colored People.
President Bush has turned down five invitations to attend NAACP gatherings, including this year's, and Bond on Sunday invited Bush to the next one, in Washington.
"Mr. President, we're extending the invitation a year in advance," Bond said. "We want to see you and we want you to see us – we want to know you think you're our president, too."
The NAACP's 96th convention, a six-day event, is being attended by more than 8,000 people, including 2,200 young adults.
Catholic group urges tougher abuse laws
Indianapolis The Catholic lay reform group Voice of the Faithful approved a draft resolution Sunday calling for stricter laws against abusive priests and the bishops who have protected them.
Nearly 600 local organizers at the group's first national meeting in three years also approved a resolution seeking greater financial transparency in the church.
Voice of the Faithful's newly elected 26-member national council will take the nine resolutions passed and select one or several as goals that the group will promote across the country.
Grandmother held in toddler's death
Denver Authorities arrested a Colorado grandmother Sunday after her 2-year-old granddaughter died inside a car on a day when the temperature hit nearly 100.
Yvonne Mabry was being held on investigation of child abuse resulting in death, police spokeswoman Virginia Lopez said. Mabry, 36, was baby-sitting Elizabeth Buchmiller and her 5-year-old sister when Elizabeth was left inside the car at an apartment complex Saturday.
1 dead, 3 missing after trains collide
Bentonia, Miss. Two freight trains collided and partially derailed early Sunday, killing at least one crew member and leaving rescue crews searching for three others presumed dead in the wreckage.
The collision northeast of Bentonia in west-central Mississippi involved two Canadian National Railroad freight trains.
It wasn't immediately clear how the two trains ended up on a collision course.
Local journalism is essential.
Give directly to The Spokesman-Review's Northwest Passages community forums series -- which helps to offset the costs of several reporter and editor positions at the newspaper -- by using the easy options below. Gifts processed in this system are not tax deductible, but are predominately used to help meet the local financial requirements needed to receive national matching-grant funds.
Subscribe now to get breaking news alerts in your email inbox
Get breaking news delivered to your inbox as it happens.
---