News > Features
Earth art educates, entertains
Mon., July 11, 2005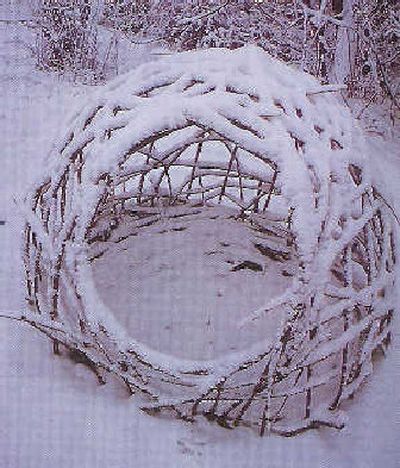 In parents' never-ending quest to trick their children into learning during summer vacation, here comes a new method.
It's called earth art, and Spokane landscape designer Jena Ponti hopes it will bring a renaissance to children's play environments.
Earth art uses earth, stone, plants, water and other natural materials to construct sculptures.
"The purpose is to have someone interact with that sculpture in a natural environment," Ponti said. "Some of the sculptures you can walk in, climb on. They want you to touch it."
The objective is to enhance children's natural playing environments, getting them off of the couch and the jungle gym and into healthy, safe learning situations.
Ponti is seeking her professional license as a landscape architect. She developed her Earth Art ideas as part of her master's thesis at Washington State University, where she graduated in 2004. Her ideas are based on research and she hasn't built any sculptures herself yet.
Northwest EcoBuilding Guild Inland Chapter – a non-profit organization for architects, state agencies, homeowners and anyone interested in healthy building environments – President Tom Angell said he hopes the presentation will encourage parents and educators in Spokane to put Ponti's ideas to use.
"It's a real engaging idea," Angell said. "Kids learn through their play, how they interact with one another."
The United States has kind of fallen behind the curve in earth art. Ponti said Japan, Australia and many European countries often allow kids to take more risks and incorporate art and nature into play environments.
In England, for example, a popular method is the willow maze. People plant willow plugs in a design that will produce a maze.
Ponti said schools should also maximize the potential of the outdoors. Teachers can bring students outside for lessons they'll enjoy.
For example, Ponti said, if teachers want to teach kids about the Missoula ice age floods and their impact on Eastern Washington, they could construct an outdoor natural model of scablands that kids could play in.
"The art would illustrate in 3-D form what happened during that time," she said.
Earth art also encourages intellectual and imaginative growth, unlike a lot of traditional playground equipment, which focuses mostly on physical development, Ponti said.
"Right now, playgrounds are pretty one-dimensional," she said. "A lot of research points to that they're unsafe and that kids get bored with them, so they use them in ways they shouldn't be used, like climbing up a slide backwards."
Even more despairing to Ponti is that some children don't play outside much at all.
"There's a lot of research to suggest that kids are becoming more and more indoor," she said.
Angell also finds that trend disturbing and thinks it makes Ponti's research all the more important.
"This is, I think, a very valid commentary on our society, as well, because in this day and age where we have so many gadgets and electronics for our play, getting back to just getting outside and playing is something I think is very important," Angell said.
Local journalism is essential.
Give directly to The Spokesman-Review's Northwest Passages community forums series -- which helps to offset the costs of several reporter and editor positions at the newspaper -- by using the easy options below. Gifts processed in this system are not tax deductible, but are predominately used to help meet the local financial requirements needed to receive national matching-grant funds.
Subscribe now to get breaking news alerts in your email inbox
Get breaking news delivered to your inbox as it happens.
---