News > Features
Guess you could call Torch the firebrand of the family
Mon., July 11, 2005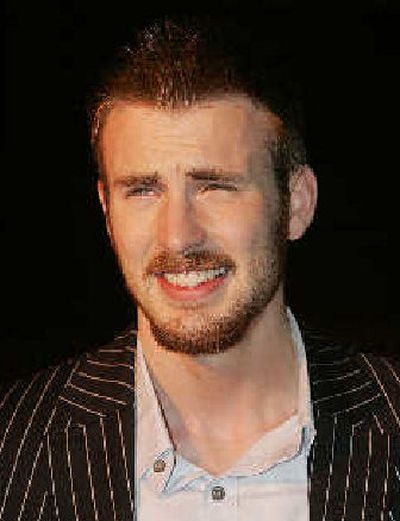 To "Fantastic Four" star Chris Evans, the superhero team's squabbling, pranks and name-calling reflect an intimate dynamic typical of families.
"It's not necessarily what we contribute; it's who we represent," says Evans, who plays the film's Johnny Storm. "Johnny's kind of the younger brother: youthful, high-spirited and energetic."
He's the poster child for boyish exuberance, enjoying his toys – snowboards, dirt bikes, sports cars – and playing practical jokes.
Johnny is a member of a spacefaring crew – including sister Sue Storm (Jessica Alba), Reed Richards (Ioan Gruffudd) and Ben Grimm (Michael Chiklis) – that's accidentally exposed to cosmic radiation while on a mission.
To his delight, and everyone else's horror, their DNA has altered in alarming ways. Johnny's new ability allows him to become the Human Torch, essentially enveloping any part of his body in fire without harming himself.
True to his id-driven nature, he sets out to "flame on" whenever he can, showing off in public despite warnings to be more circumspect and careful.
"He's a bit impulsive, a bit thoughtless toward the other people the same way any immature child can be in a family," Evans says.
He credits director Tim Story with casting a group that had the necessary on-screen chemistry.
"He found a bunch of people he knew would work well together," says Evans. "Our off-screen camaraderie definitely translates on film."
Gruffudd, who plays the team's leader Mr. Fantastic, appropriately fell into the role of mentor on set, while Chiklis, nicknamed "Chickie," was an easygoing companion, sharing Evans' enthusiasm for another team – the Boston Red Sox.
Beyond friendship, however, he and Alba had the challenge of conveying the complex frustration and affection between siblings. Even though the two actors are really only a few months apart in age, Alba had to play his disapproving and less spontaneous older sister.
"She has a younger brother. I have an older sister," says Evans. "So we both pulled experiences from our own lives and sank right into those roles the first time we met. It just felt right."
Tapping into his inner child wasn't that difficult, either.
"What little boy didn't run around with a towel tied around his neck, jumping off the bed?" he recalls with a laugh.
Revisiting his childhood paid off, especially for the numerous scenes in which he's supposed to act like he's on fire, before the CGI flame effects were added in post-production.
"It's really expensive make-believe, which is what every actor is used to because we all probably did it growing up," he explains.
And now that Evans plays a superhero himself, he'll influence the next generation of kids looking for champions.
Even his own family has jumped onto the superhero bandwagon, enjoying the action figures based on the film's spandex-clad characters.
"My mother owns them all," he says.
The birthday bunch
Actor Tab Hunter is 74. Singer Bonnie Pointer (the Pointer Sisters) is 55. Actress Sela Ward is 49. Guitarist Richie Sambora (Bon Jovi) is 46. Singer Suzanne Vega is 46. Actress Debbe Dunning ("Home Improvement") is 39. Actor Michael Rosenbaum ("Smallville") is 33. Rapper Lil Kim is 30. Rapper Lil' Zane is 23.
Local journalism is essential.
Give directly to The Spokesman-Review's Northwest Passages community forums series -- which helps to offset the costs of several reporter and editor positions at the newspaper -- by using the easy options below. Gifts processed in this system are not tax deductible, but are predominately used to help meet the local financial requirements needed to receive national matching-grant funds.
Subscribe now to get breaking news alerts in your email inbox
Get breaking news delivered to your inbox as it happens.
---