News > Spokane
Wounds of war
Mon., July 11, 2005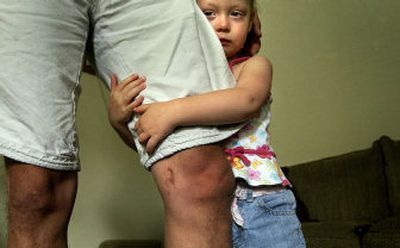 The attack that was to end Cpl. Ian Anderson's career in the Marines began with the explosion of rocket-propelled grenades, followed by rifle fire from an unseen enemy less than a month after the U.S. invasion of Iraq.
By the time he took five rounds in his legs and shoulder, Anderson couldn't hear anything at all – not even when a Marine sergeant returned fire with the 25 mm chain gun from atop an armored vehicle.
Today, the 24-year-old veteran with a wife and 2½-year-old daughter is starting over in civilian life with migraines, tinnitus and damaged vertebrae in his neck, wounds that still cause him pain and emotional problems related to combat.
"I was supposed to be a career Marine," said Anderson, a 2000 Rogers High School graduate.
Since his discharge last August, he has tried working at a grocery store, but his injuries prevent him from standing for long periods. He also has had trouble readjusting because "people are less organized in civilian life," he said.
Anderson is one of 352 veterans who have checked in with the Veterans Affairs Medical Center in Spokane since returning from Iraq and Afghanistan, according to Marvin Boyd, chief of enrollment and administrative operations for the hospital.
Last month, VA Secretary Jim Nicholson told the House Veterans Affairs Committee that the administration is $1 billion short of the money needed to treat returning Iraq and Afghanistan veterans.
The VA had projected that more than 23,000 veterans from Operation Iraqi Freedom and Operation Enduring Freedom would be seeking its medical care, according to news reports. The actual number will be greater than 103,000 by the end of September, Nicholson told the Senate Veterans Affairs Committee last month.
Sen. Patty Murray, D-Wash., who sits on the veterans committee, called the underestimate the result of "either deliberate misdirection or gross incompetence by this administration and the Department of Veterans Affairs." Her amendment last year to provide an additional $2 billion for veterans' health care was defeated along party lines after vehement objections by the Bush administration.
On June 29, the Senate voted to spend another $1.5 billion on veterans' health this year to make up the shortfall. The House has responded with a measure to provide $975 million as requested by the administration.
As one of more than 13,000 U.S. military personnel wounded in action in Iraq or Afghanistan, Anderson's appearance at a veterans hospital was expected. What the administration apparently did not foresee was the appearance at VA hospitals across the nation of thousands of National Guard and Reserve soldiers who were not wounded in Iraq and Afghanistan but whose medical complaints are nonetheless service-related.
Since the invasion of Iraq in March 2003, the Defense Department has maintained its force strength through the largest mobilization of the National Guard and Reserves since World War II – as many as 150,000 soldiers at any given time. Their health care is provided through TRICARE, the military's health insurance program, until six months after discharge from active duty. Then the citizen soldiers must either find private health insurance with employers – an increasingly difficult proposition in a nation with 45 million uninsured – or seek VA care.
In 1998, the VA was authorized to extend health care benefits for National Guard and Reserve soldiers who serve in active duty in a theater of combat operations. These veterans are eligible to receive benefits for two years after their discharge from active duty, even if it cannot be determined that their medical conditions are a result of combat service.
The Spokane VA Medical Center has seen its enrollment increase over the past year from 20,000 patients to more than 21,000 expected by the end of the fiscal year in September, according to associated administrator Jane Schilke. During that time, the hospital's budget has grown from $78 million to $84 million.
As of the end of February, Schilke said, Veterans Integrated Service Network 20, which oversees Washington, Alaska, Oregon and Idaho, had about 2,500 veterans on waiting lists of 30 days or more. The Spokane hospital had about 500 veterans waiting for health care.
"We are giving priority to patients with service-connected illnesses, returning Iraqi Freedom veterans and patients with acute medical need," Schilke said. "The other folks seeking primary care might have to wait a little bit longer to get in to see a doctor."
Nationally, the VA has not enrolled new Priority 8 patients – those whose disabilities are not service-related and whose incomes exceed a regionally adjusted threshold – since 2003. The VA categorizes patients in eight priority groups with Priority 1 being veterans with service-connected disabilities rated 50 percent or more disabling.
Most of the returning veterans seeking health care at the Spokane VA are Washington Army National Guard, who served in Iraq with the 81st Brigade Combat Team or the 1161st Transportation Company based in Ephrata. Others are Air National Guard or Marine reservists, according to Boyd.
When they arrive at the hospital they are interviewed by Carroll McInroe, a VA social worker. Boyd, McInroe and Dewey Guill in administrative support make up the Spokane VA team, which sees to it that returning Iraq and Afghanistan veterans get the care they need.
The team has seen far less post-traumatic stress disorder than expected. Instead, veterans are coming back from Iraq with muscular-skeletal problems associated with the weight they must carry and hearing loss and tinnitus as a result of loud explosions. They also complain of daily exposure to smoke from the constant burning of garbage by both Iraqi civilians and U.S. military.
James Bowen of Davenport, Wash., returned early this year from Iraq, where he was serving with the National Guard's 1/161st Support Battalion, part of the 81st Brigade. At 55, it was his second war, having served in Vietnam in 1970 and 1971. He recently enrolled at the VA hospital in Spokane.
"Compared to Vietnam, it was nothing," Bowen said of his time in Iraq. "I was just thankful the terrorists didn't know how to shoot."
Still, he saw more than his share of mortar attacks at Forward Operating Base Prosperity on a corner of the International Zone in Baghdad, and he lost a comrade and friend to a roadside bomb. During a car bombing, the sight of a piece of metal fluttering through the air brought back memories of the shelling Bowen took in Vietnam.
As the mortars and rockets rained down on B Company, 2nd Battalion of the 94th Field Artillery that March 1971, Bowen left the shelter of his bunker to save the life of Bravo Company's medic and then used the medic's medical supplies to treat other wounded. For his courage under fire Bowen was awarded the Bronze Star with V for valor.
"You don't know what you're going to do or how you're going to handle it until something actually happens," Bowen said.
Since returning from Iraq, Bowen has no private health insurance. Though federal law provides some employment protections for returning Guard and Reserve soldiers, the company he worked for before being activated in November 2003 is now bankrupt. So the vet relies on the Spokane VA hospital to treat his high blood pressure, a flutter in his heart, a pinched nerve in his neck and lower back pain associated with the weight he was required to carry as a soldier.
Injuries of the neck, back, hips, knees and ankles are the most common complaint of returning Iraq and Afghan veterans, according to McInroe.
"The U.S. Army always wants to go high-tech and carry every damn thing in the world," the VA social worker said. "Why do you think they call them 'grunts'? It's the sound they make putting on their gear."
With backpack, body armor, water, helmet and night vision equipment, an American infantryman or Marine can carry more than 80 pounds into battle, McInroe said. He cited the example of a National Guard sergeant who carried a mortar tube and mortars, as well. This soldier's career in the military has been cut short by two damaged vertebrae, which will likely become degenerative disk disease later in life.
"We don't know if this is going to be a long-term problem," McInroe said of veterans returning with such injuries.
He said almost every Iraq or Afghanistan veteran he has interviewed had replaced his standard issue cloth-top boots with ones that offer more ankle support. Typically, the veteran or his family bears the cost, about $125 a pair.
The second-most-common medical condition of the returning veterans is hearing loss or tinnitus. Combat veterans have always complained of a ringing in their ears, and the Iraq vet is no exception. Tinnitus can be caused by sustained exposure to the noise made by a high-caliber weapon or by a single loud explosion.
In Iraq, the explosions are getting louder all the time, veterans have told McInroe. Improvised explosive devices, IEDs, have become so big they can knock a soldier down from 400 to 500 meters away.
"Two years ago they were using small stuff," McInroe said. "Now they are using artillery rounds daisy- chained together."
Last October, the Pentagon acknowledged leaving many ammunition dumps unguarded immediately after the invasion of Iraq. As a result, tens of thousands of artillery rounds and other explosives were taken only to reappear as IEDs and car bombs. Hundreds of U.S. soldiers and thousands of Iraqis have been killed or maimed by such devices.
Returning veterans also are reporting that they experienced daily exposure to noxious smoke. Open-pit burning goes on everywhere in Iraq, according to veterans interviewed by McInroe.
As one veteran put it, "There ain't no EPA in Iraq."
Iraqi civilians and U.S. military alike burn garbage. Because of the danger of traveling in Iraq and the impracticality of escorting garbage trucks into the desert to burn, the Army is burning its refuse "inside the wire," or within guarded military compounds, Iraq veterans said.
"We don't yet know the long-term effects of that," McInroe said.
Of particular concern is whether the military is burning batteries, a source of heavy metals contamination, along with its garbage.
So far, fewer veterans than anticipated have returned with emotional problems as a result of their service in Iraq and Afghanistan.
In July 2004, a study published in the New England Journal of Medicine found 15.6 to 17.1 percent of Iraq veterans and 11.2 percent of Afghanistan veterans suffered from major depression, generalized anxiety or post-traumatic stress disorder.
The Spokane VA hospital has seen some returning veterans with psychological problems, including trouble readjusting to civilian life, depression or anxiety, but less PTSD than expected.
"Out of 352, behavioral health has enrolled and treated 50," McInroe said. "Only 10 have been diagnosed with chronic PTSD."
The disorder is directly related to severity and duration of combat. The Spokane hospital has seen only about 10 or 12 veterans of the Iraqi invasion, as well as Anderson, who was wounded soon after the invasion, and another Marine who lost an arm during the battle of Fallujah, McInroe said. Many of the Iraq veterans seen at the hospital have been National Guard soldiers who could have come under numerous mortar or IED attacks by insurgents during the typical 12- to 14-month tour of duty.
It is possible that symptoms of PTSD could emerge in veterans two or more years down the road.
Citing the example of the Vietnam War, McInroe said how a nation treats its returning soldiers has "a big impact on how they will cope with their war experiences later on in life."
Bowen, a veteran of both Vietnam and Iraq, said his homecoming was "1,000 percent different this time."
People lined up at airports to applaud him and other uniformed soldiers "going and coming." Unlike the Vietnam era, he said, even those who oppose U.S. involvement in Iraq are able to distinguish the warrior from the war.
Bowen and Anderson, who is receiving physical therapy at the Spokane VA hospital, are impressed with the level of care they are receiving there, though Anderson believes the hospital is underfunded and understaffed.
It is a sentiment shared by Sen. Murray and veteran service organizations that have lobbied Congress for mandatory funding of Veterans Affairs. They view providing health care to veterans as part of the cost of war, which has been underestimated by the Bush administration.
"It's hard to fight a war, but yet not have the funds to treat soldiers when they get back," Boyd said.
Local journalism is essential.
Give directly to The Spokesman-Review's Northwest Passages community forums series -- which helps to offset the costs of several reporter and editor positions at the newspaper -- by using the easy options below. Gifts processed in this system are not tax deductible, but are predominately used to help meet the local financial requirements needed to receive national matching-grant funds.
Subscribe now to get breaking news alerts in your email inbox
Get breaking news delivered to your inbox as it happens.
---