Sports
Abreu king of long ball
Tue., July 12, 2005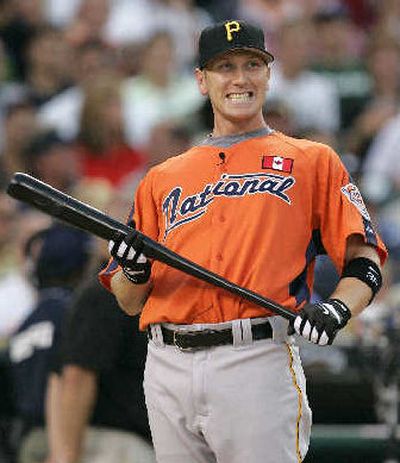 DETROIT – Bobby Abreu won the Home Run Derby with a record-setting performance Monday night, hitting an astounding 24 homers in his first turn at bat before outslugging hometown favorite Ivan Rodriguez in the finals.
Abreu also smashed the mark for total homers with 41, besting Miguel Tejada's 2004 total of 27 by the second round. He hit 11 in the finals, another derby record, to Rodriguez's five in an event that lasted 3 hours, 3 minutes.
"I'm tired," Abreu said. "This is a beautiful night."
The Philadelphia Phillies right fielder was the first contestant – he also will hit leadoff for the National League in the All-Star game tonight – and he gave fans a spectacular show right from the start.
Abreu homered on his first swing and didn't stop until he obliterated Tejada's previous mark of 15 homers in a round, set last year in Houston.
"Pretty sick," Boston's Johnny Damon said.
Batting left-handed and teeing off against his personal batting practice pitcher, Phillies bullpen coach Ramon Henderson, Abreu topped out with a 517-foot shot onto the porch above the back row of right-field bleachers, sending the standing-room crowd scurrying for a souvenir.
It was the third-longest drive in the 20 times the derby has been held, behind Sammy Sosa's 524-foot homer in 2002 at Miller Park in Milwaukee and Frank Thomas' 519-footer in 1994 at old Three Rivers Stadium in Pittsburgh.
Abreu even chipped his bat on his 21st homer – but the ball still cleared the center-field fence.
"See that? Hit it too hard," he said before Phillies teammate Jimmy Rollins brought him some new lumber.
Abreu went the other way to left-center for No. 24, then finally made his 10th out after 17 minutes at the plate, ending his turn and prompting a third standing ovation.
"Just trying to put on a good show. They enjoy it, that's what it's all about," he said.
So much for spacious Comerica Park being a poor site for a power-hitting contest. In fact, the ball carried very well to right field on a pleasant, 78-degree night.
"Unbelievable. He made it look it like it's too easy getting the ball out of this park," Red Sox captain Jason Varitek said.
Representing his home country of Venezuela in baseball's new international format, Abreu stopped twice to tip his cap to the chanting crowd of 41,004 – and once when Rodriguez, the lone All-Star for the host Tigers, brought him something to drink.
With water fountains shooting high into the air in center field after each long ball, it was an awesome display by one of the most underrated stars in baseball – and maybe a bit intimidating for the other competitors. The next batter, Jason Bay of Canada, was shut out.
"Didn't make it any easier," Bay said.
Boston's David Ortiz of the Dominican Republic put on an impressive show as well, also surpassing Tejada with 17 home runs in the first round. But Ortiz was overshadowed – and eliminated when he connected only three times in Round 2.
In the semifinals, Abreu connected on his first two swings. He finished with six in that round, including three when he was down to his final out, which was good enough to advance.
Local journalism is essential.
Give directly to The Spokesman-Review's Northwest Passages community forums series -- which helps to offset the costs of several reporter and editor positions at the newspaper -- by using the easy options below. Gifts processed in this system are not tax deductible, but are predominately used to help meet the local financial requirements needed to receive national matching-grant funds.
Subscribe to the sports newsletter
Get the day's top sports headlines and breaking news delivered to your inbox by subscribing here.
---