Sports
Plenty of new faces among stars
Tue., July 12, 2005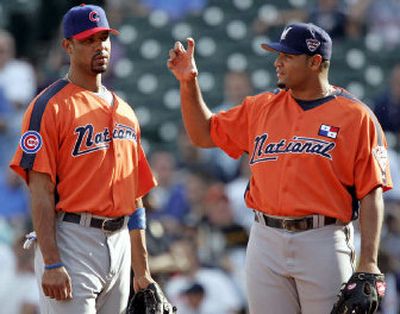 Derrek Lee knows the All-Star game has a whole new look this year.
Barry Bonds, Sammy Sosa and Ken Griffey Jr. are nowhere to be seen. Derek Jeter and Jason Giambi aren't around, either.
Instead, there's a whole bunch of new kids on the block for tonight's game at Comerica Park in Detroit. There's Lee and Brian Roberts, who lead their leagues in batting average. And there's Chris Carpenter and Mark Buehrle, the starting pitchers.
Twelve of the 20 players in the lineup have never started an All-Star game before, including seven in the American League.
"It could be the next wave," Lee said before Monday's workout. "It has to happen at some point. Guys can't play forever."
Of course, there are some exceptions. Roger Clemens, a month shy of his 43rd birthday, was picked for the 11th time. Clemens played in his first All-Star game in 1986, when Lee was just 10.
And then there's 40-year-old Kenny Rogers, who received the most attention at the All-Star media availability, held at the hotel in suburban Dearborn, Mich., where the players are staying. He was suspended July 1 for 20 games and fined $50,000 for an outburst that sent a television cameraman to the hospital and prompted a police investigation. Because the players' association appealed, Rogers can't be penalized until after a hearing and a decision by commissioner Bud Selig.
He spent 45 minutes answering and avoiding questions.
"I figured everyone would be at this table. I'm sure the rest of the guys love this, because they don't have to worry about it," he said. "I'll take whatever shots people give me, and at the end, I'll still be standing."
Atlanta's John Smoltz, a Detroit native, recalled his first All-Star trip, to Anaheim in 1989.
"I was so fish-out-of-water," he said. "I didn't know if I was coming or going."
For the third straight season, the league that wins the All-Star game gets homefield advantage in the World Series. The A.L. has won the last seven All-Star games played to a decision.
Rodriguez Tiger's lone All-Star
The Detroit Tigers have not had many stars since Alan Trammell, Lou Whitaker and Jack Morris helped them win the 1984 World Series.
They will have only one player, Ivan Rodriguez, in today's All-Star game, and the reserve catcher qualifies as one of baseball's all-time best by any standard.
For starters, just three players have at least 11 Gold Gloves and a career .300 batting average: Rodriguez, Willie Mays and Roberto Clemente.
Rodriguez has started 10 All-Star games, tied for the most among catchers with Johnny Bench and Mike Piazza, and will play in his 12th midsummer classic in his home ballpark. He has seven Silver Slugger awards, second to Piazza.
Some have argued Rodriguez is the best all-around catcher ever, and Piazza wouldn't argue with them.
"I think he's amazing," Piazza said Monday. "He can catch, throw, block, be a leader and be an amazing hitter. Throughout his career, look at the injuries he's sustained and come back from."
Rodriguez, who has battled back problems, is playing with a broken hand and a sprained one. He also has played this season under a quiet cloud of scrutiny because of his dramatic weight loss, and an allegation made by a former teammate. He showed up at spring training weighing 193 pounds – about 20 pounds lighter than last year.
Rodriguez quickly denied accusations in Jose Canseco's book that he used steroids while playing for Texas.
Mets sign Dominican teenager
The New York Mets have signed a 16-year-old outfielder in one of the richest deals for a prospect from the Dominican Republic.
Fernando Martinez got a $1.4 million contract last week, even though he can't play in the United States until he turns 18.
"I didn't expect something of this size," Martinez said at his home in Rio San Juan.
Even with his lucrative deal, Martinez said he wants to attend college and study business administration. The Mets included $100,000 to pay for his studies as part of the package.
Borowski joins Devil Rays
Former Chicago Cubs reliever Joe Borowski agreed to a contract with the Tampa Bay Devil Rays and will join the last-place team after the All-Star break.
The 34-year-old saved 33 games for the Cubs in 2003, helping them make the playoffs. He appeared in 11 games this season and was 0-0 with a 6.55 ERA before being designated for assignment when the Cubs activated Kerry Wood on June 29.
Local journalism is essential.
Give directly to The Spokesman-Review's Northwest Passages community forums series -- which helps to offset the costs of several reporter and editor positions at the newspaper -- by using the easy options below. Gifts processed in this system are not tax deductible, but are predominately used to help meet the local financial requirements needed to receive national matching-grant funds.
Subscribe to the sports newsletter
Get the day's top sports headlines and breaking news delivered to your inbox by subscribing here.
---