News > Nation/World
Rice gets mixed greeting in Asia
Tue., July 12, 2005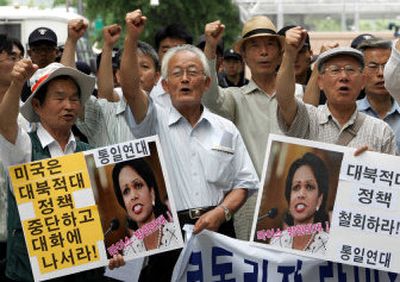 BAN BANG SAK, Thailand – More than six months have passed since the tsunami's brutal surge flattened this village, leaving scores of orphaned children in its wake.
But when Secretary of State Condoleezza Rice arrived at the provincial school Monday, the place came alive with music. The young faces brightened with giggles. The future of Thailand, dressed in white and black uniforms, was on display for the American visitors.
The children serenaded Rice with the "Alphabet Song," striking every letter from A to Z, before asking the secretary, "Next time won't you sing with me?"
"Next time I'll bring my piano and I'll play with you," replied Rice, an accomplished concert pianist. "But shall we sing it again? I'll sing with you."
As a few dozen pupils began singing through the English alphabet a second time, Rice turned to the boys and girls and began conducting them as though she were directing a symphony.
This was a photo opportunity, though, that came with a larger purpose.
At a time when the image of America continues to be less than glowing in many places around the globe, why not go to the site of the devastating tsunami to remind people that the United States has been a generous partner in the reconstruction effort?
"Hundreds of thousands of Americans either gave of their resources or came here to work," Rice said. "That's what America is all about."
As she dashes across Asia, traveling to four countries in four days, her chief mission lies in meetings with diplomats and heads of state as she seeks to build support to negotiate an end to North Korea's nuclear weapons program.
But in the middle of visiting China, Japan and South Korea – all parties to the North Korean talks to begin this month – Rice flew seven hours out of her way to stop in Thailand. She began her tour in Phuket. By way of motorcade, helicopter and a sport utility vehicle that sped along a winding road, she arrived in Ban Bang Sak.
Along her route, she witnessed for the first time the devastation from the Dec. 26 tsunami that killed 5,400 people in Thailand alone. She passed a large police patrol boat that had been swept a mile inland. She saw a metal statue where two people were spared because they clung tight.
Phang Nha province, where the school is located, was the hardest hit in Thailand, where officials believe up to 1,000 bodies have yet to be recovered. The schoolhouse was obliterated. A flagpole was all that remained standing.
Its reconstruction became a global venture, with practical items including computers and clothes donated from the International School of Bangkok. The muscle is coming from volunteer groups such as one on hand Monday from Iowa State University.
Before year's end, the volunteers told Rice, they hope to complete a new school for up to 1,000 students. There will be room for many of them to live, too, because the tsunami orphaned so many.
Everyone seemed pleased to see Rice, particularly those who were given a short respite from working in the blistering sunshine.
"It's a little better than our everyday routine of pouring concrete," said Grant Lovin, who is taking a break from his engineering studies in Ames, Iowa, to spend a summer in Thailand.
While some hotels and resorts have reopened, the tourism industry that once was the region's lifeblood has yet to rebound. One embassy official said many Asian tourists in particular have stayed away because they believe ghosts haunt the area.
But the best way to help Phuket and the nearby communities, locals believe, is to take a vacation here. Rice delivered a message urging Americans to travel to Thailand.
That's precisely what Tolly Tate and her family from Hinsdale, Ill., did. And in the middle of their vacation, she and her 10-year-old daughter, Grace, were surprised to spot Rice as she walked into a Phuket hotel to meet with the Thai foreign minister.
"Initially we took Phuket off our itinerary," said Tate, who changed her mind after doing more research and determining Thailand was open for business. "It's a lot different than you expect it to be."
Not every stop on Rice's visit, however, was designed with publicity in mind.
She also met with the mother of a tsunami victim whose body was recovered only days ago. For that session, there were no television cameras or even a public announcement that it had taken place.
Some meetings, a Rice spokesman said, should remain private.
Local journalism is essential.
Give directly to The Spokesman-Review's Northwest Passages community forums series -- which helps to offset the costs of several reporter and editor positions at the newspaper -- by using the easy options below. Gifts processed in this system are not tax deductible, but are predominately used to help meet the local financial requirements needed to receive national matching-grant funds.
Subscribe now to get breaking news alerts in your email inbox
Get breaking news delivered to your inbox as it happens.
---