Sports
Abreu moves to cleanup after cleaning up at Derby
Fri., July 15, 2005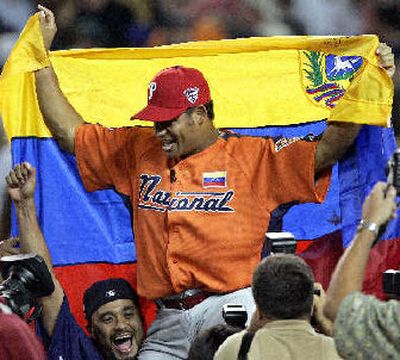 PHILADELPHIA – Bobby Abreu's next home run will probably come in the cleanup spot.
Long a fixture in the No. 3 hole for Philadelphia, Abreu was moved to fourth in the lineup for Thursday night's game against Florida, although manager Charlie Manuel said it had nothing to do with the right fielder's record-setting performance in the Home Run Derby on Monday night.
Second baseman Chase Utley was bumped up to third, and left fielder Pat Burrell was dropped to fifth.
The lineup might change again when first baseman Jim Thome comes off the disabled list – but Abreu could remain the Phillies' full-time cleanup hitter.
"I think his best years are yet to come, both for power and batting average," Manuel said.
Abreu won the Home Run Derby during All-Star week in Detroit, hitting a record 41 homers. His display brought some overdue attention to one of baseball's most overshadowed stars.
"Now people know about Bobby Abreu," he said before Thursday's game. "People point and say, 'You're the guy in the Home Run Derby.' It's a good thing that happened."
Abreu doffed his cap and waved to fans as they gave him a standing ovation during a pre-game ceremony honoring Philadelphia's All-Stars. The biggest cheer, though, was for bullpen coach Ramon Henderson, who threw 157 batting practice pitches to Abreu in the derby – including all the fat ones he needed.
Henderson's reward?
"Anything he wants," Abreu said, laughing.
Abreu's trophy was on display in the lobby before the game and will remain there through the weekend.
"People expected home runs, so you should try to hit home runs," he said.
Abreu, batting .307 with 18 homers and 58 RBIs, insisted he won't change his approach now that he's a Home Run Derby champ.
"The fans know me. They know I'm a line-drive hitter," he said.
Abreu represented his home country of Venezuela in the derby's new international format and felt proud to give his country something to cheer.
"It was big for them," he said. "They went crazy, fireworks and all. There was a lot of emotion."
Local journalism is essential.
Give directly to The Spokesman-Review's Northwest Passages community forums series -- which helps to offset the costs of several reporter and editor positions at the newspaper -- by using the easy options below. Gifts processed in this system are not tax deductible, but are predominately used to help meet the local financial requirements needed to receive national matching-grant funds.
Subscribe to the sports newsletter
Get the day's top sports headlines and breaking news delivered to your inbox by subscribing here.
---