Sports
An ominous sign at the Old Course
Fri., July 15, 2005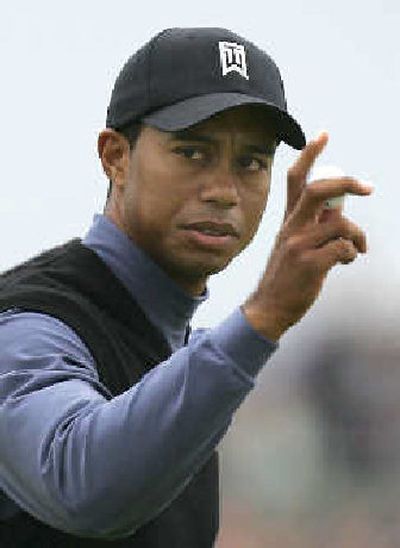 ST. ANDREWS, Scotland – There are a series of signs along the side of the two-lane highway that leads into town from the west, and they serve to list some of the most infamous trouble spots on the Old Course. The first reads "Lion's Mouth," the next reads "Hell Bunker," then "Coffins," then "Valley of Sin."
The final sign? "Yawn."
The advertisement was provided by Nike Golf, which is all about Tiger Woods, who was all about teaching the Old Course some new tricks Thursday morning when he tossed a 6-under-par 66 at the place to grab the first-round lead of the British Open by one shot over Mark Hensby.
Woods again mistreated the most revered course in golf. In his last five rounds here, he's a combined 25 under par. Whether it matters or not, Woods is also a successful front-runner. He has won the last three majors he either led or was tied for the lead after the first round – the U.S. Open and PGA Championship in 2000 and the U.S. Open in 2002.
For at least one day, it was vintage Woods, trying to become the second player to win all four majors at least twice. Jack Nicklaus, playing his last major here, is the other.
Woods averaged 339.5 yards off the tee, was 7 under through 12 holes, wormed his way out of three bunkers and finished with his lowest opening round in a major since his 65 at the 2000 U.S. Open, which he happened to win by 15 shots.
After looking at Woods' score, Colin Montgomerie sounded a warning.
"It's ominous who's on top of the board, ominous," he said. "Unfortunately. Not unfortunate for him, but unfortunate for me and the rest of the competitors.
"If there's a course built for him, it's this one. He won by eight shots last time here (in 2000) and who says he won't do it again?"
Nicklaus isn't going to say it. After he closed out his round of 75, Nicklaus was asked about Woods' fast start and he was blunt. "That's not fast for him. That's just a normal start."
Opening day on the Old Course was decidedly abnormal. Even with its added length, it played well short of its 7,279 yards because the fairways are so hard and fast. Until the wind came up in the afternoon and rain came in sprinkles, the natural defenses of the age-old layout were nowhere to be seen.
"The course is longer but it's playing shorter because of the run on the fairways," Sandy Lyle said.
Woods led the plundering, but he had plenty of company.
Hensby, an Australian who tied for third at the U.S. Open, shot a 5-under 67 and is alone in second place. Retief Goosen, Luke Donald, Jose Maria Olazabal and Fred Couples lead a group of 10 that is tied for third at 68. Peter Lonard is in the mix at 68 after a roller-coaster round that featured seven birdies, an eagle, two double bogeys, one bogey and only seven pars.
Lonard's adventure had a catchy highlight. He eagled the 618-yard 14th when he hit a driver and 3-wood to within 20 feet, then made the putt.
As for Goosen, he bounced back from his disappointment of the U.S. Open at Pinehurst, where he shot an 81 in the final round, which he started as the leader.
"Pinehurst has been completely forgotten," said Goosen.
Meanwhile, Woods only wants to remember the Old Course, probably because he's got such fond memories of the place.
He said he isn't sure if he has the Old Course figured out as he did when he won here five years ago with a 19-under total. It's all about the wind, he said.
"I feel like I'm playing really well," he said. "I don't know if it's the same handle or not, but it's a different wind, two totally different winds. Last time we played, it was off the right on the first hole. This time it was off the left. The outward holes are much harder this year than they were last time. So the inward holes are the easier ones.
"Two totally different golf courses. I still feel very comfortable out there."
He certainly played the part. Woods hit 14 of 18 greens in regulation, needed 27 putts, drove it so well he needed no more than a wedge into six holes and even found a way to combat the bunkers.
He landed in three of them, but played the three holes in 1 over.
The only time Woods appeared uncomfortable was after he was through with his round and revealed that his mother had been vacationing in a London hotel near one of the fatal bombing attacks.
Kultida Woods was not injured, but Woods said he didn't even know she was close to the scene until his coach, Hank Haney, found out and told Woods on Wednesday.
Local journalism is essential.
Give directly to The Spokesman-Review's Northwest Passages community forums series -- which helps to offset the costs of several reporter and editor positions at the newspaper -- by using the easy options below. Gifts processed in this system are not tax deductible, but are predominately used to help meet the local financial requirements needed to receive national matching-grant funds.
Subscribe to the sports newsletter
Get the day's top sports headlines and breaking news delivered to your inbox by subscribing here.
---