News > Pacific NW
Gregoire ready to visit firefighters in action
Fri., July 15, 2005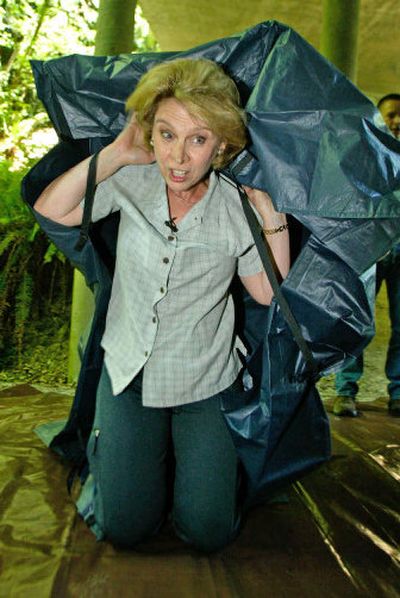 OLYMPIA – Gov. Christine Gregoire earned a "red card" Thursday that allows her to visit wildfire lines this summer, passing a fire fitness test by completing a brisk one-mile hike and then correctly using a pup-tent-like emergency fire shelter.
"It was claustrophobic; it was scary," she said when she emerged from the shelter.
"It'd take a lot of discipline to get me to stay in one of those things" if overtaken by a wildfire, she said. "My natural reaction would be to run."
The state's top forest fire expert, Mark Kahley of the Department of Natural Resources, said it's unlikely the governor would ever get in a situation so dangerous she'd need what he called the equivalent of an airplane ejector seat.
"It will get hot, it will be noisy and it will save your life," he said of the emergency shelter.
Gregoire was the first Washington governor to go through the firefighters' "work capacity" test. It's required even for a governor who wants to visit the front lines.
Gregoire said she asked for training and certification a few months ago when it looked like the Pacific Northwest could face its worst fire season.
"Hopefully with the (wetter) weather conditions, we can avoid that," she told reporters. "But I want everyone to be ready … and it is important that I say that safety is first."
Local journalism is essential.
Give directly to The Spokesman-Review's Northwest Passages community forums series -- which helps to offset the costs of several reporter and editor positions at the newspaper -- by using the easy options below. Gifts processed in this system are not tax deductible, but are predominately used to help meet the local financial requirements needed to receive national matching-grant funds.
Subscribe now to get breaking news alerts in your email inbox
Get breaking news delivered to your inbox as it happens.
---