News > Nation/World
Rehnquist denies retirement rumors
Fri., July 15, 2005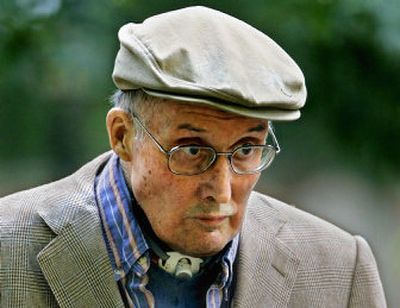 WASHINGTON – Squelching rumors of his retirement, Chief Justice William H. Rehnquist said Thursday he will continue heading the Supreme Court as long his health permits. "I'm not about to announce my retirement," he said in a statement obtained by The Associated Press.
"I want to put to rest the speculation and unfounded rumors of my imminent retirement," said Rehnquist, 80, and ailing with thyroid cancer. "I will continue to perform my duties as chief justice as long as my health permits."
Rehnquist released the statement hours after being released from an Arlington, Va., hospital after being treated for two days with a fever.
President Bush had not been informed in advance about Rehnquist's statement but the White House welcomed the chief justice's announcement.
"The chief justice is doing an outstanding job, and we are pleased he will continue his great service to the nation," presidential spokesman Scott McClellan said.
His declaration scrambles an unsettled situation on the high court for the second time in less than two weeks. Justice Sandra Day O'Connor unexpectedly stepped down earlier this month at a time when the White House, the Senate and outside groups had been preparing for the chief justice to leave the court.
Rumors of his departure intensified after Rehnquist was hospitalized. The White House was proceeding with contingency plans to fill two vacancies, a prospect that might have given Bush the political flexibility to please more than one constituency. Now that just one seat is vacant, Bush is likely to come under intense pressure from his political base to nominate a hard-line conservative.
Rehnquist, who has been through at least one round of chemotherapy and radiation, surprised many people when he presided at Bush's inauguration in January and returned to the bench in March, keeping a full schedule.
But outside of a handful of brief statements issued by the court since October, Rehnquist has said nothing publicly about his condition or prognosis. He had also said nothing about his plans on the bench despite the vigil kept by reporters and photographers outside his home. His statement Thursday evening should put an end to that speculation.
Local journalism is essential.
Give directly to The Spokesman-Review's Northwest Passages community forums series -- which helps to offset the costs of several reporter and editor positions at the newspaper -- by using the easy options below. Gifts processed in this system are not tax deductible, but are predominately used to help meet the local financial requirements needed to receive national matching-grant funds.
Subscribe now to get breaking news alerts in your email inbox
Get breaking news delivered to your inbox as it happens.
---