Sports
Return of hockey brings big changes
Fri., July 15, 2005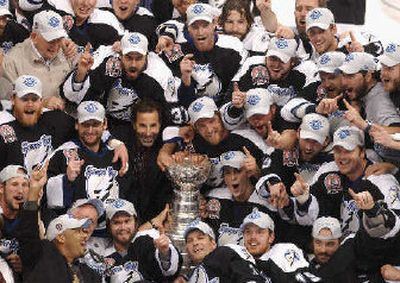 NEW YORK – Welcome to the new National Hockey League, home of the Stanley Cup champion Tampa Bay Lightning.
No doubt this hockey season is going to be different, but how much is still anyone's guess.
Even though the details of the new collective bargaining agreement won't be known for a week, changes will be noticeable – on and off the ice.
It's safe to say that owners will have nicer comments for commissioner Gary Bettman, who got them the "cost certainty" they employed him to achieve, than many players will offer to union executive director Bob Goodenow.
Goodenow led his constituents into this fight, saying he wouldn't settle for a salary cap or a link between player costs and league-wide revenues. After a season of lost paychecks, the players are left with both.
Both sides, however, are expected to vote to ratify the deal next week and return the game to the ice. Whether Goodenow gets to keep his office is another question altogether.
When we last saw the NHL in action, the upstart Lightning – who had only one playoff series victory before 2004 – ran through the Eastern Conference and then outlasted the more surprising Calgary Flames in Game 7 of the finals.
That kind of small-market magic could easily become the norm in this new hockey world.
Gone are the days of virtual All-Star teams. It worked often in Colorado and Detroit, not so much in Manhattan. Regardless, all 30 teams are going to have to squeeze full rosters into a cap structure that is expected to max out at $39 million, $3.5 million lower than a deal players refused just before the season was canceled in February.
"In order to go from the system that we had before to the one that we're ending up with, it took a lot of work from both sides," said Pat Brisson, the agent for Sidney Crosby – the prize in next week's draft lottery. "I understand the CBA is going to be five or six hundred pages. I don't think there was a deal in February."
Parity could be the new name of the game.
"I believe it will," New Jersey Devils general manager Lou Lamoriello said. "From Day One, it will give an opportunity.
"All you have to do is look at what happened year-to-year with football."
Well, the NHL always dreamed of being like the NFL.
Some high-priced stars on talent-laden teams might be facing contract buyouts this year, allowing clubs to pay two-thirds of a contract and getting players off the cap books. The market is going to be flooded as teams fill rosters.
Just look at Boston and Washington, which have four players each under contract.
Hello, free agency.
Sure, the megacontracts won't be available, but come 2006, players aged 27 will be able to test the market – down from age 31 this season.
Not only are upper and lower limits placed on team-by-team payrolls, but the CBA is believed to contain ceilings on individual players. Sure Jaromir Jagr and Alexei Yashin are going to top the lists of highest-paid players, but their salaries are going to be seven figures instead of eight.
The new deal is capping contracts at 20 percent of a club's payroll. So if the team limit is $39 million, no one can earn more than $7.8 million per season.
All existing contracts are going to be slashed by 24 percent, too.
But all those numbers are tough to relate to anyway. For the non-accountants who like hockey, here's what you can look forward to if you decide to give the NHL another chance.
More scoring, less grabbing, and a possible guarantee that you will see a winner at the end of every game.
The only thing shrinking as quickly as the billfold in the wallets of players are the pads goalies will wear to keep pucks out of the net.
The masked men complained back in February 2004 when recommendations were first made to cut down the pads, but they have had plenty of time to get used to the idea that is expected to be in effect come October.
Some of the more radical suggestions – such as not letting goalies play the puck behind the goal line – might have to go through more testing before becoming the law of the land, but wider blue lines that expand the offensive zones appear on the horizon.
The added cost of blue paint could be offset by the savings on the red stuff. That center line might be missing this season, opening up the game for longer passes and faster play – especially if clutching and grabbing is really taken away.
Local journalism is essential.
Give directly to The Spokesman-Review's Northwest Passages community forums series -- which helps to offset the costs of several reporter and editor positions at the newspaper -- by using the easy options below. Gifts processed in this system are not tax deductible, but are predominately used to help meet the local financial requirements needed to receive national matching-grant funds.
Subscribe to the sports newsletter
Get the day's top sports headlines and breaking news delivered to your inbox by subscribing here.
---