News > Spokane
Second crash into storefront in Millwood delays reopening
Fri., July 15, 2005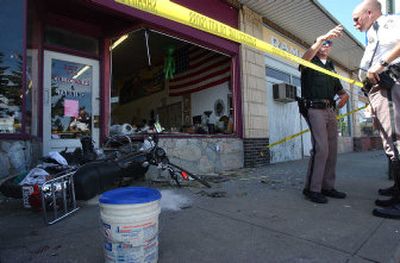 A Millwood business set to reopen today – two months and two days after a drunken driver crashed through half its glass storefront – will have to hold off a while longer.
A motorcyclist crashed through the other half of the business Thursday afternoon.
Business owners Dan Deno and his wife, Barbara, laughed it off as bad luck. The first crash happened on Friday, May 13.
"Do I have a target painted on me?" Deno asked his wife and the contractor who had just finished $7,000 work on the other half of the business. "Why our building?"
B&D Collectibles is at 3207 N. Argonne Road, across from and slightly north of the traffic light at Empire Way.
The motorcyclist, whose name was not immediately available, was headed west on Empire going about 30 mph, said Deputy Terry Liljenberg, of the Spokane County Sheriff's Office. He went through a red light and failed to negotiate a turn. He hit the curb and flew into the glass window.
Barbara Deno was in the store when it happened. "She about jumped out of her skin," Dan Deno said.
Two Millwood residents, including a 14-year-old boy, stopped to help the motorcyclist until medics arrived. The motorcyclist's arm was cut by the shattered glass, firefighters said. He was taken to a hospital in fair condition.
Dan Deno stood in front of the business Thursday afternoon, marveling at his bad luck. The black Yamaha lay amid the shards of glass that had displayed the business' name.
The Denos run B&D Collectibles from the front of the building, and a tanning business, All Rays & Shine, in the back half. When the drunken driver crashed through the glass in May, they closed the collectibles store and piled the merchandise in the other side of the store. The couple were preparing to reopen the store to sell off all the merchandise items for half-price and expand the tanning business to include nail technicians and hairstylists.
"It looks like we're going to stay closed," Dan Deno said.
Local journalism is essential.
Give directly to The Spokesman-Review's Northwest Passages community forums series -- which helps to offset the costs of several reporter and editor positions at the newspaper -- by using the easy options below. Gifts processed in this system are not tax deductible, but are predominately used to help meet the local financial requirements needed to receive national matching-grant funds.
Subscribe now to get breaking news alerts in your email inbox
Get breaking news delivered to your inbox as it happens.
---