A&E > Entertainment
Today's trivia: Amusement parks
Fri., July 15, 2005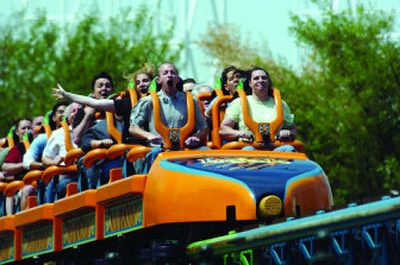 Test your knowledge of amusement parks, big and small.
1. What amusement park ride was introduced at the 1893 World's Fair?
A. Tilt-A-Whirl
B. Roller coaster
C. Ferris Wheel
D. Bumper cars
2. What 2005 roller coaster, currently the tallest and fastest, takes the rider from 0 to 128 mph in 3.5 seconds and up a 45-story steel tower?
A. Great American Scream Machine
B. Colossus
C. Cyclone
D. Kingda Ka
3. The world's oldest operating amusement park opened in what year?
A. 1583
B. 1635
C. 1787
D. 1822
4. True or False: Disneyland is the site of the first tubular steel roller coaster.
A. True
B. False
5. What's the world's largest theme park?
A. Six Flags in Atlanta
B. Walt Disney World in Florida
C. Universal Studios in California
D. Tivoli World in Costa Del Sol, Spain
Local journalism is essential.
Give directly to The Spokesman-Review's Northwest Passages community forums series -- which helps to offset the costs of several reporter and editor positions at the newspaper -- by using the easy options below. Gifts processed in this system are not tax deductible, but are predominately used to help meet the local financial requirements needed to receive national matching-grant funds.
Subscribe to the Spokane7 email newsletter
Get the day's top entertainment headlines delivered to your inbox every morning.
---