News > Nation/World
Ambushes, shootings around Iraq claim 24
Tue., July 19, 2005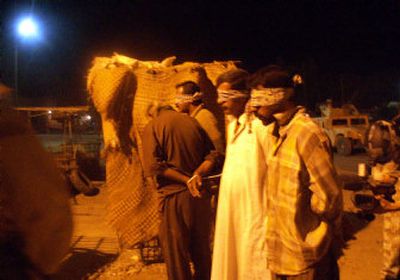 BAGHDAD, Iraq – Gunmen killed at least 24 police, soldiers and government workers in Iraq on Monday, and an Iraqi general said about 50 suspected insurgents have been captured in the first days of a new security operation in Baghdad.
The latest bloodshed occurred in a series of small-scale ambushes and shootings as Baghdad received a respite Monday from the wave of suicide bombings that had killed 22 people in the embattled capital the day before.
However, a car bomb targeted U.S. and Iraqi troops in Rawah, 175 miles northwest of Baghdad, witnesses reported. At least one person, believed to have been a civilian, was killed, the witnesses said.
The deadliest attack Monday was in the western Baghdad district of Khadra, where eight policemen died in a gunbattle with insurgents, police said. It was unclear if the insurgents had suffered casualties.
Gunmen also killed at least five other police officers, including a colonel, in attacks around the capital, police and hospital officials said. Three civilian government employees were killed in separate ambushes in Baghdad, police reported.
A policeman died in a shootout between insurgents and security forces just north of Baghdad in Taji, police said. And in Samarra, 60 miles north of Baghdad, gunmen killed a police colonel, an Interior Ministry official and three Iraqi soldiers in a series of attacks.
In the north, gunmen killed two Iraqi soldiers in eastern Mosul and assassinated Abdul-Ghani al-Naimi, whose brother is a member of the Iraqi Parliament.
Also Monday, the military said a U.S. Marine died in a non-hostile incident on Sunday at a U.S. base in Ramadi. At least 1,766 members of the U.S. military have died since the beginning of the Iraq war in March 2003, according to an Associated Press count.
The violence came as Iraqi forces reported a new offensive against insurgents in Baghdad. An Iraqi general, who spoke on condition of anonymity for security reasons, told the Associated Press that Operation Thunder began last week on the west side of the Tigris River, which divides the city.
He said about 50 suspected insurgents, including two Syrians, had been captured in the opening days of the operation, which will be expanded over the next few days.
Al Qaeda in Iraq reported Monday that one of its "field commanders" had been killed by coalition forces in western Iraq, the terror group purportedly said in a statement posted on a Web site used by militants. The statement did not say when the man, Abi Salih al-Ansar, had been killed.
In New York, U.N. Secretary-General Kofi Annan called on Iraqis to end the violence and join in building "a united, democratic and prosperous Iraq."
The deteriorating security situation also has alarmed Iraq's most powerful Shiite clergyman, Grand Ayatollah Ali al-Sistani, whose tacit endorsement was crucial in the Shiite victory in the Jan. 30 elections.
Following a weekend meeting with al-Sistani in Najaf, Vice President Adil Abdul-Mahdi, a top Shiite politician, said the cleric had urged the government to protect the people in "this genocidal war."
However, another leading Shiite cleric, Muqtada al-Sadr, blamed the violence in Iraq on the presence of U.S. and other foreign forces.
"The occupation in itself is a problem," al-Sadr told the British Broadcasting Corp. in a broadcast Monday. "Iraq not being independent is the problem. And the other problems stem from that – from sectarianism to civil war, the entire American presence causes this."
Local journalism is essential.
Give directly to The Spokesman-Review's Northwest Passages community forums series -- which helps to offset the costs of several reporter and editor positions at the newspaper -- by using the easy options below. Gifts processed in this system are not tax deductible, but are predominately used to help meet the local financial requirements needed to receive national matching-grant funds.
Subscribe now to get breaking news alerts in your email inbox
Get breaking news delivered to your inbox as it happens.
---