Sports
Boys wanna have fun, too
Tue., July 19, 2005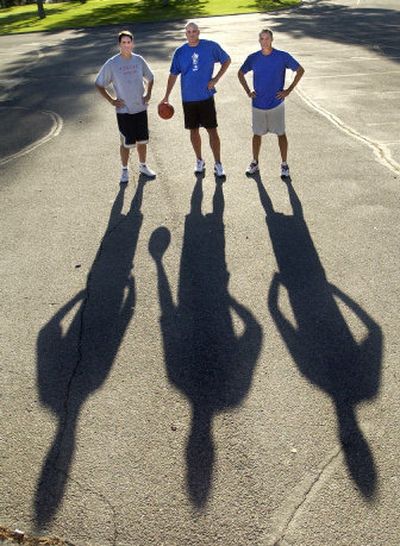 From Catholic grade school at Holy Family in Clarkston, to high school, to Lewis-Clark State College, Greg Hannan and Matt Gregg always played basketball together.
So when Hannan got a phone call from an old friend in Australia about playing in the World Masters Games, he knew exactly who was coming with him.
Hannan, Gregg and Post Falls High athletic director Craig Christensen make up the American contingent of an Australian-based team, the Brindabella Transpacifics, playing in the 40-44 age bracket in Calgary at the over-30 Olympics Friday through July 30.
The connection to the Australians comes through Hannan, the all-time leading rebounder at LCSC, who played for three years in the late '80s in state leagues in Australia – a very difficult and physically exhausting experience according to Hannan, now a wholesale mortgage lender in Greenacres.
"The best player on the team got a cup for free beer all night," said Hannan about playing basketball in a rugby-centered sporting society. "I laid on the beach, drank beer and played basketball, about in that order."
After the 6-foot-5 Hannan came back to the states, he stayed in touch with some former teammates, and in December, one of them called to let Hannan know he would be in Calgary in July for the basketball tournament.
"I said, 'That sounds great, I wish I was playing,'" Hannan said.
In Febuary, his friend called back.
"He told me that not all the guys could make it because of their wives or their families," Hannan said. "He asked me if I knew anybody that could play, and I said, 'As a matter of fact, me. And I've got a buddy who's 6-10,' and I called Matt."
Hannan and Gregg were both the leading scorers at Clarkston their senior years, Hannan in 1982 and Gregg in '83. Hannan went to Eastern Washington before landing back at LCSC, playing from 1984-87 for his father, Dick. Gregg went to Spokane Falls CC and Idaho before ending up in Lewiston from 1986-88.
Gregg, the girls basketball coach at Freeman High and tennis coach at Post Falls, reluctantly agreed to join Hannan in Calgary.
"Greg's hoping to put on a show and pick up a 10-day (NBA) contract," Gregg said. "I'm hoping for no more surgeries."
From Post Falls, Gregg knew the 6-6 Christensen, who played collegiate ball at Minot (N.D.) State before playing three years in Norway. All three of them have played together in local recreational leagues the past year-and-a-half.
There's a lot of uncertainty involved in this venture. Only Hannan has played with or even met the Australians, and they may have as few as eight players, depending on who actually ends up making the trip. Hannan says that for the most part, the Aussies want to have fun, with a couple pretty serious players.
They also have no real idea about the talent level they'll be up against.
"It's kind of wide open, I guess there's two teams from Chicago and one from Russia," Christensen said. "Right now, I don't know a whole lot. We should have some ex-NBA players and some ex-international players. It's going to be interesting to see about us gelling with five guys from Australia."
With four teams in their bracket, they would appear to have a good chance of medaling. The Australians have been spreading rumors about who they'll be playing against, speculating that the 1980 Soviet Olympic team and a Phil Jackson-coached Bulls reunion team would be there, both highly unlikely.
There's also a 65-and-over bracket in Calgary, and a couple teams based out of NBC Camps in Spokane will be playing in the 50-59 bracket and the 60-64 bracket.
Although the local trio is doing this mostly to have fun, you can't take the competitiveness out of an old athlete.
"Greg's still working out," Gregg said, taking a jab at his old teammate. "He's playing at the junior high's 9-foot hoops down at recess."
Hannan does want to have fun, but he hopes to without the cost of returning home "in a cast or a bodybag.
"You've still got a competitive mind," Hannan said. "Even though we can't, we still think we can."
Local journalism is essential.
Give directly to The Spokesman-Review's Northwest Passages community forums series -- which helps to offset the costs of several reporter and editor positions at the newspaper -- by using the easy options below. Gifts processed in this system are not tax deductible, but are predominately used to help meet the local financial requirements needed to receive national matching-grant funds.
Subscribe to the sports newsletter
Get the day's top sports headlines and breaking news delivered to your inbox by subscribing here.
---