Sports
Weiss choice of Sonics
Tue., July 19, 2005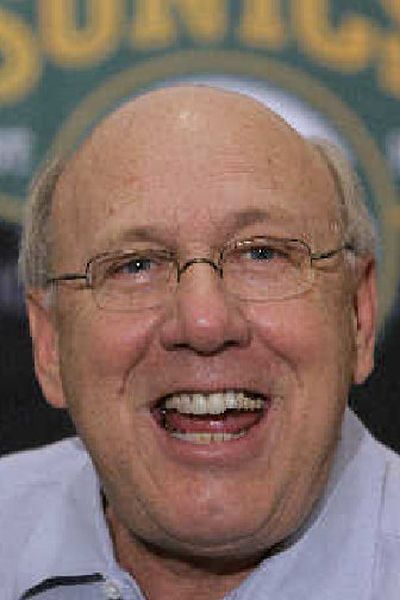 SEATTLE – After more than a week since proclaiming he was the best man to fill the Sonics coaching vacancy, Bob Weiss has accepted an offer to become the team's 13th head coach.
Financial terms of the deal were not disclosed, but it is believed to be a three-year contract.
Weiss, who had three previous stints as a NBA coach, has been with the Sonics since 1994 as an assistant. He received near unanimous support from the team, including co-captains Ray Allen and Rashard Lewis.
Most players said they wanted to retain the continuity from a team that finished with a 52-30 record and advanced to the Western Conference semifinals.
"The groundswell overwhelmed me – I never anticipated the level guys stood behind me," Weiss said Monday afternoon at a news conference. "I'm happy they liked me as an individual but more happy they had confidence in me that I can help carry them forward to where we want to go."
Asked why he could be successful in Seattle as a head coach compared to his other jobs, he said, "We don't have any players on a respirator. The first couple jobs I had were complete rebuilding jobs. …This is first opportunity I've had to work with talents like Ray, Rashard, the nucleus, Luke (Ridnour), Nick Collision – the caliber of people, the city, the friends we've already made here. "
And the difference from being an assistant coach and head coach?
"Being an assistant is still like being a spectator," he said. "When you're head coach, it's like being in the game again, your blood's flowing, and it's more fun – especially on the 1st and 15th (when paychecks arrive)."
Weiss said the general direction of the club would remain the same, other than his goal of simplifying the defense, and his management style would be different.
"I think I'm quite different than I was in my first couple jobs," he said. " I'm more prepared, I have more experience, I know how to work, I know how to make it work," he said. "When I first started coaching, I gave it everything, and I assumed as head coach that my guys were doing that, too. But when I came to Seattle, I saw how hard guys could play. I will be more demanding than I was when I was a younger coach."
He said he believed he got the job because ownership wanted continuity.
"I know what our weaknesses are because I've been here, and that's one aspect of hiring someone who really knows these players," he said. "They know what's been tried, know where the holes are.
"We definitely had a Cinderella season last year; we far outplayed expectations of everyone. We have a very good team here, we'll go from there. … These guys are great competitors; they're talented, there is no reason to take a step back."
The Sonics' coaching search began and ended with Weiss at the top of the list. No one else emerged as a serious candidate to replace Nate McMillan, who accepted the head coaching job in Portland.
Reports: Swift to Rockets
Free-agent forward Stromile Swift has reached an agreement to sign with the Houston Rockets, according to reports.
Swift's agent, Andy Miller, would not disclose terms, but KPRC-TV and the Houston Chronicle reported that the contract would be worth about $30 million over five years — consistent with the mid-level salary exception available to the Rockets.
Local journalism is essential.
Give directly to The Spokesman-Review's Northwest Passages community forums series -- which helps to offset the costs of several reporter and editor positions at the newspaper -- by using the easy options below. Gifts processed in this system are not tax deductible, but are predominately used to help meet the local financial requirements needed to receive national matching-grant funds.
Subscribe to the sports newsletter
Get the day's top sports headlines and breaking news delivered to your inbox by subscribing here.
---