Sports
Brown, Pistons reach deal, part ways
Wed., July 20, 2005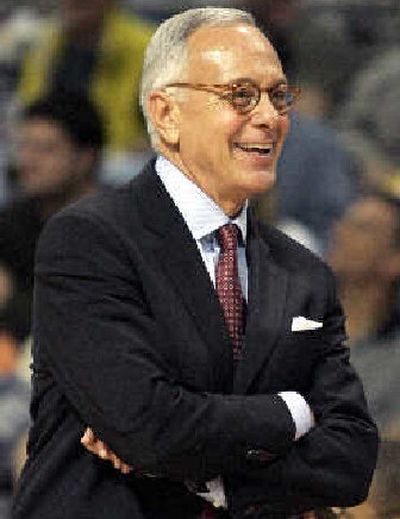 DETROIT — Larry Brown is out as coach of the Detroit Pistons.
Brown and the Pistons reached a settlement Tuesday on the final three years of his contract, Pistons spokesman Matt Dobek said. He now is free to coach another team next season, said Dobek, who declined to provide further details.
Asked if the team had fired Brown, Dobek replied: "Say what you want."
The team didn't want the Hall of Fame coach back and had offered a payoff, Brown's agent, Joe Glass, said Tuesday.
"I take umbrage with the Pistons, or sources, saying it's a buyout," Glass said Tuesday morning before the announcement. "A buyout encompasses a mutual agreement, and that's not what is happening. Larry Brown is saying, 'I want to coach the Pistons,' and they want to pay him off for whatever reason."
Before the Pistons said Monday that they were negotiating a buyout, they had said they would welcome Brown back if he was willing to return.
"Until this week, I can't remember a time that I read Joe Dumars not categorically state that Larry Brown is our coach," Glass said. "The Pistons can try to change the facts, but you can't change history.
"When did this all break down? My best guess is months ago."
After the announcement, messages seeking comment were left with Brown, Glass, team president of basketball operations Joe Dumars, and Pistons players Richard Hamilton and Chauncey Billups.
In a statement, Dumars said "the search for a new Pistons' head coach has already begun." Brown is expected to be replaced by former Timberwolves coach Flip Saunders.
"We appreciate the two tremendous seasons the team enjoyed with Larry as coach," Dumars said in an additional statement. "We wish him the best and good health going forward."
Two years ago, Detroit signed Brown to a five-year contract worth about $25 million, plus incentive bonuses. He guided the Pistons to the NBA championship in 2004 and came one victory away from repeating this year.
Throughout the season, Brown insisted he would return if doctors deemed him healthy enough, and said he wouldn't lead another NBA team from the sideline. Still, there have been reports that the New York Knicks would not hire a new coach until they knew for sure Brown is unavailable.
The 64-year-old Brown was hospitalized for treatment of a medical problem that developed from complications following hip surgery in November and persisted after a second procedure in March. He checked into the Mayo Clinic the morning after last month's NBA draft, less than a week after Detroit lost Game 7 of the finals to the San Antonio Spurs.
"His medical condition isn't 100 percent and it hasn't improved much," Glass said. "But we're trusting God that it will, and Larry has represented that he is physically, spiritually and emotionally able to coach.
"I do not want myself or Larry to sound vindictive because this is a free country, but at the same token, facts are facts. Some are saying Larry is using his health as an excuse, but that's not the truth because he's more than willing to come back, even with his current condition."
Brown and Glass met with Dumars and Pistons owner Bill Davidson last week. Other than traveling to suburban Detroit for the meeting, Brown has been resting, on doctor's orders, at his vacation home in New York.
During the regular season, reports linked Brown to jobs in New York, Los Angeles and Denver.
The Cleveland Cavaliers talked with Brown about becoming their president of basketball operations after Detroit gave them permission during the spring. Cleveland hired Danny Ferry as general manager last month, and he has been assured that Brown will not be his boss.
Brown is the only coach with NBA and NCAA championships, winning a title with the Pistons last year and one with Kansas in 1988.
His longest tenure with any team was six seasons with Philadelphia. He had two years left on his contract there before coming to Detroit.
Brown led the 76ers to the playoffs for five straight seasons, including the 2001 NBA Finals, and became the first coach to take six NBA teams to the playoffs when the Sixers made it in 1999.
He also coached Denver (five years), Indiana (four years), San Antonio (31/2 years), New Jersey (two years), Carolina of the ABA (two years) and the Los Angeles Clippers (18 months). His NCAA teams include UCLA and Kansas, where he left after winning the title.
When he was hired in Detroit, Brown refused to set a timetable on leading the Pistons to their third NBA championship, but promised not to embarrass the team.
The win over the Spurs in Game 6 this year was Brown's 100th in the postseason, moving him past Red Auerbach for third place on the all-time list.
Brown has more than 1,000 NBA victories in the regular season and playoffs. Since starting his career in 1972 with the ABA's Carolina Cougars, he has led pro and college teams to more than 1,400 wins.
Brown also coached the U.S. men's basketball team to a bronze-medal finish at the 2004 Olympics in Athens, the first time since pro players were added for in 1992 that the Americans went home without gold.
Local journalism is essential.
Give directly to The Spokesman-Review's Northwest Passages community forums series -- which helps to offset the costs of several reporter and editor positions at the newspaper -- by using the easy options below. Gifts processed in this system are not tax deductible, but are predominately used to help meet the local financial requirements needed to receive national matching-grant funds.
Subscribe to the sports newsletter
Get the day's top sports headlines and breaking news delivered to your inbox by subscribing here.
---