Some Ironman participants gutted it out for charities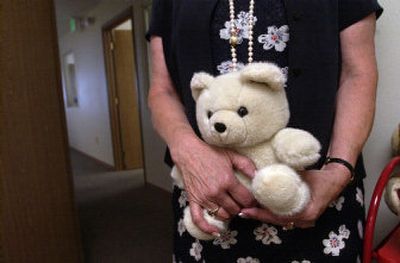 Coeur d'Alene's Women's Center and St. Vincent de Paul Society are celebrating thousands of unexpected dollars in their budgets this summer thanks to Ironman Coeur d'Alene competitors.
Sixty-three of this year's 1,761 Ironman Coeur d'Alene participants raised more than $559,000 for nonprofit organizations across the nation at the grueling June 26 race in which competitors swam 2.4 miles, biked 112 miles, then ran 26.2 miles. Those 63 triathletes participated in the Janus Charity Challenge, a fund-raising competition for Ironman participants offered by financial asset managing company Janus Capital Group in Denver.
"So many people accuse you of being selfish when you do Ironman. Friends and family put up with a lot while you train," said Brenda Smith, a Coeur d'Alene triathlete who raised money for the Coeur d'Alene Women's Center. "Doing it as a fund-raiser is a real way to give back."
Janus motivates athletes to raise money for nonprofits by adding substantial amounts to the totals of the top five fund-raisers and adding $750 to each of the next 25 top totals. To qualify, however, athletes must finish the race. This year, Janus also added $100 to every Charity Challenge participant who crossed the Ironman finish line.
A Minnesota man who raised $72,913 for a Christian school was Ironman Coeur d'Alene's top fund-raiser. Janus awarded his nonprofit organization an extra $10,000.
Doug Evans of Coeur d'Alene earned about $40,000 for the Lance Armstrong Foundation with his wife Amy's help. His total placed third and earned the foundation an extra $6,000 from Janus.
"It's so awesome that Janus does this," Amy Evans said.
Since Janus started the Charity Challenge in 2001, Ironman athletes have raised more than $9.2 million for the nation's nonprofit organizations. The Coeur d'Alene race had the most Janus Charity Challenge participants of any previous Ironman races, according to Ironman North America.
Evans, 35, registered for the race specifically to raise money to fight cancer. His dad, Robert Evans, was diagnosed with stomach cancer last year. Doug and Amy Evans raised $25,000 at a May 20 dinner and auction they called the Coeur d'Alene Cancer Challenge. Robert Evans' condition had deteriorated by then and he was unable to attend. He died June 15, but not before encouraging his son to finish the race.
"Even if I couldn't help my dad as much as I would have liked, the charity challenge kept us focused on something positive," Doug Evans said.
The Evanses plan to continue to raise money for the Lance Armstrong Foundation. They've raised enough already to qualify Doug Evans to ride with Armstrong, who's currently leading the Tour de France, at his October Ride of Roses in Austin, Texas.
Smith, North Idaho College's human resources director, raised $14,200 for the Coeur d'Alene Women's Center. Her total earned an extra donation of $750 from Janus and a heart full of gratitude from Linda Kincaid, center director. Kincaid said at least $5,000 of that money will go into the Soroptomist Children Center, where children from families torn apart by domestic violence are counseled.
"We weren't quite sure how we were going to get through July," Kincaid said. Her center's budget was cut by $97,760 this year as state and federal funding for domestic violence was reduced. "It was like an answer to a prayer after the budget cuts."
Knowing she was raising money for the Women's Center motivated her to finish the race when exhaustion set in, Smith said.
"I was dehydrated on the run and feeling discouraged," she said. "I thought, 'I have to keep going because I'm doing this for the Women's Center. What they go through is much more than what I'm going through.' It kept me going."
Smith said she plans to compete in another Ironman, possibly in another city, and she'll raise money for the Women's Center again.
"If more athletes wanted to do it and pool together, it'd be a neat thing to do," she said. "It totally changes your race."
Randy Colee, who lives in Rathdrum, raised $450 for the Breakfast Boys Christmas Wish program on KEZE-FM in Spokane, a project of the KXLY Community Partners Foundation. Janus added $100 to Colee's total, giving the Christmas Wish program $550.
"I'll do it again next year and hopefully double the amount," he said. "It gives you a reason to race, makes you go that much harder."
Gina Mauro, the radio station's promotions director, said the $550 Colee raised will outfit two families with Christmas presents.
St. Vincent de Paul benefited from Philadelphia resident Lindsay Rutherford, who grew up in Coeur d'Alene. Rutherford raised $1,775 and Janus added $100 to her total.
"It's so exciting. Nonprofits live from hand to mouth," said Kathy Reed, St. Vincent's social services director. "We have 17 people in the men's shelter using the appliances. Just as you catch up, something else breaks. Any bonus makes it so much nicer."
St. Vincent's runs emergency shelters for men and women and a transitional housing center to help families rise out of homelessness. Reed said the Charity Challenge money may replace a worn carpet in the men's shelter.
---