Coeur d'Alene Tribe unveils housing complex for elders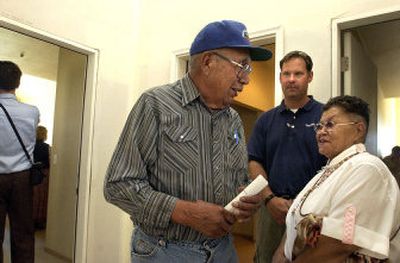 The new ground-level apartment complex overlooking Plummer's rolling hills is open to a select group only.
But no one is complaining. The 20 apartments with vaulted ceilings, wide doorways, picture windows and a communal dining room for potlucks and parties are for the Coeur d'Alene Tribe's oldest members.
"This is designed for you guys," Chief Allan, tribal chairman, told a crowd filled with creased faces and gray hair Thursday. The crowd was gathered to dedicate the tribe's first elder-housing complex, although individual homes scattered throughout the reservation are designated as senior homes. "Elders are the key to our past. If we don't know where we come from, how can we go forward?"
The one-bedroom apartments are the newest housing in North Idaho designated for seniors living on small incomes. The stylish $2.8 million Housing and Urban Development project looks nothing like typical, low-cost HUD housing, said John Meyers, HUD regional director.
"Too often the roofs we put over people are boxes. Quite frankly, no one wants to live in a HUD home," Meyers told the Plummer crowd. "But you were able to build something beautiful. You done well."
Until the past few years, most seniors weren't interested in elder housing. The name to many suggested abandonment, seclusion from the rest of society, a place to die. But that's no longer the case. The oldest ranks of the population are the fastest growing, particularly in North Idaho. Their numbers alone are forcing a necessary change in the home construction industry.
Since 2000, the Panhandle population older than 59 has grown by 43 percent. It's expected to grow by 200 percent by 2020, according to the U.S. Census. That age group nationwide is projected to explode by 147 percent by 2050. Those people are downsizing their lives at a rapid rate and are healthier as a group than all the oldest generations before them. They don't need assistance with their daily living, but they need living spaces in harmony with the physical limitations of age.
"They're in that zone between adulthood and elderhood," said Pearl Bouchard, director of Aging and Adult Services in Coeur d'Alene. "And they're telling us low-cost housing for seniors is an unmet need."
Since 1987, developers have added 44 senior housing complexes to the state, said Reed Hollinshead, Idaho Housing and Finance Association spokesman. IHFA helps finance affordable housing projects. What began as no-frills, low-cost housing for seniors on tight budgets evolved into cozy wheelchair-accessible units with extra handrails, gardens and social areas.
"It is the most rewarding housing I do by far," said Maryann Prescott, co-owner of White Water Creek Inc., a Hayden contracting company. Prescott and her husband, Todd, have built 160 units for seniors from Ponderay to Coeur d'Alene since 1999. They're working on new units in Moscow and Spokane now, Prescott said.
Low-cost housing for seniors was a natural extension of building affordable housing, she said. Monthly rents are based on income and range from $200 to $500 for one- and two-bedroom units.
The Prescotts' first senior project, Coeur d'Alene Senior Living for people at least 62 years old, opened in 1999. It's a string of 30 attached ground-level apartments on both sides of a secluded street. Units have front porches, flower gardens and small lawns. Doorways are 3 feet wide. Shower entries are floor level. Benches and trees establish a community atmosphere.
Carol Bryson, a retired nurse, is the complex's live-in manager. She started a telephone buddy system. Neighbors call each other every day or two, if they don't see each other otherwise, to see how things are going. Bryson promotes a community feeling with potlucks, barbecues, street dances and game and movie nights. She started a food bank that residents keep filled and use when their finances are low.
"Someone shouldn't have to choose between food and medicines," Bryson said. "I started it after one woman ate pancakes for five days."
Residents are independent but know Bryson watches over them. Bryson said she has notified residents' families when their health nose-dives and they need living arrangements that also provide care.
"I love my neighbors. I wouldn't pick any other place to live," said Frances Koehler, an 80-year-old resident who mows her own lawn and still shovels snow. She moved in when Coeur d'Alene Senior Living opened.
The Prescotts turned over management of Coeur d'Alene Senior Living last year to National Church Residences, a nondenominational, nonprofit corporation based in Columbus, Ohio. It directs operations in affordable and senior housing throughout the nation.
Maryann Prescott said White Water's senior developments all have waiting lists, which doesn't surprise Bouchard at Aging and Adult Services. Bouchard said she knows housing is a problem for North Idaho seniors but doesn't have the data to show agencies, such as HUD, that could help. Bouchard helped the Prescotts win approval to build senior housing in Ponderay because the exploding housing industry there is driving lifelong residents out, she said.
"If I could find out from the housing industry about their waiting lists, I'd have a better picture of the failure in housing for seniors," she said.
The Coeur d'Alene Tribe's seniors didn't show much interest when the tribe's elder-housing project started, said David LaSarte, the tribe's former director of housing. He's a lawyer in Seattle now. As the project developed, though, into a classy beige and white structure few people would associate with senior living, a list of prospective residents grew.
"People saw quality," LaSarte said. "It'll be tough deciding who gets to move in."
---