A&E > Entertainment
'Hustle' runs out of steam
Fri., July 22, 2005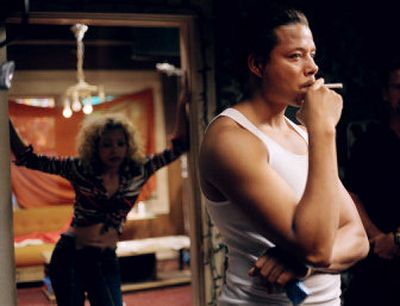 There are films that are so good they can overcome any plot problem, even a dissatisfying ending.
"Hustle & Flow" is almost that good. Just not quite.
For most of its 104-minute running time, "Hustle & Flow" does the improbable: It takes us to the streets of Memphis, Tenn., involves us in the life of a pimp and his … uh, employees and makes them seem worthy of sympathy.
Writer and director Craig Brewer manages this while doing very little to make his characters likeable.
Terrence Dashon Howard plays DJay, a small-time pimp whose stable consists of three working girls – Nola (Taryn Manning), the jail-bait white girl who's a sucker for DJay's rap; Shug (Taraji P. Henson), the doe-eyed one who is pregnant (maybe with DJay's child); and Lexus (Paula Jai Parker), the independent one who is tired of the dead-end existence that DJay has led her to.
But DJay, too, is unhappy. Caught up in the life of a hustler, he has a poet's soul. And he gets a chance to express that soul one day when he, by chance, meets an old friend, Key (Anthony Anderson).
Impressed with DJay's rough talent, Key – who harbors his own dreams – agrees to help out. Pretty soon the two, aided by Key's white-boy sound man Shelby (DJ Qualls), are trying to lay down some rap recordings in a make-shift studio.
It is at this point that "Hustle & Flow" is most effective. Slowly, gradually, Brewer captures the gestation of a song that shows not only DJay's skill at portraying the pimp's life but Key and Shelby's musical instincts – instincts that draw Nola and Shug into the lair, allowing both, but mainly Shug, the chance to unleash their own up-until-now hidden talents.
Then DJay hears that a successful rapper, Skinny Black (Ludacris), is coming to town. Knowing that Skinny Black also came from the tough section of Memphis, DJay sees this as his big chance.
All he needs to do, he thinks, is get a copy of his tape in Skinny's hands.
In portraying DJay's dilemma, Howard – an actor with a talent that speaks of bigger things – is able to express all the longing and desperation that DJay has enough of to fill several lives.
But … then Brewer insists on going for the big moment. He gives us a payoff that, incredibly, is violent and implausibly happy. And in the process, nearly all the feeling of authenticity that he has built drifts away more quickly than the glint fades off a gold tooth set in a smiling pimp's mouth.
Brewer's false turn doesn't ruin what his actors have achieved. Manning, whose performance flirts closest to cliché, never quite loses it. Henson's moment of strength is as poignant as it is painful. And Anderson and Qualls add their respective strengths during the recording sessions.
As for Howard, this may be his year. He created a riveting character in "Crash," the best film of 2005 so far, and his work here is … well, it's superb. It's not easy to play an unsympathetic character with pathos, but Howard manages it.
If only Brewer had let his film flow to a more natural, more realistic ending.
Instead, he – and it – get lost in the hustle.
Local journalism is essential.
Give directly to The Spokesman-Review's Northwest Passages community forums series -- which helps to offset the costs of several reporter and editor positions at the newspaper -- by using the easy options below. Gifts processed in this system are not tax deductible, but are predominately used to help meet the local financial requirements needed to receive national matching-grant funds.
Subscribe to the Spokane7 email newsletter
Get the day's top entertainment headlines delivered to your inbox every morning.
---