News > Business
Corporate culture moves from boardroom to courtroom
Sun., July 24, 2005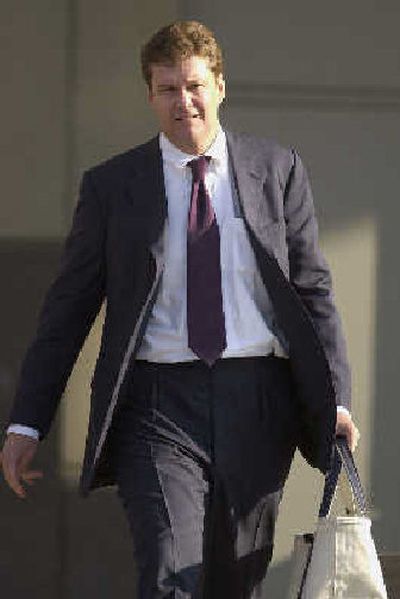 KANSAS CITY, Kan. — Stop in Room 476 at the federal courthouse here, and you'll hear prosecutors weave a story of millionaire executives who, the prosecutors say, broke the law to pad their paychecks and who quashed the hopes of average shareholders to fuel their own boundless greed.
They are not alone.
The seemingly never-ending trial of former Westar Energy Inc. executives David Wittig and Douglas Lake — now in its second round after a mistrial — is one of hundreds of corporate fraud cases being pursued in the country. Since the 2001 collapse of Enron Corp. brought a new wave of emphasis on corporate wrongdoing, so many such cases have been pursued that the public can hardly keep up.
"The scope of it is just so enormous," said Cynthia Smith, co-author of "Inside Arthur Andersen" and the forthcoming "The Rise of the Rogue Executive," to be released next month. "They're everywhere in the country, they're in all kinds of industries, there is no sort of circumscription of this in any way."
A May report from the FBI showed 405 corporate fraud cases being pursued across the U.S., double the number of cases pending at the end of 2003. The report said another three to six cases are added each month.
The federal Corporate Fraud Task Force has netted about 700 convictions or guilty pleas from its creation three years ago until last December, according to the Justice Department's latest available figures. In all, about 1,300 defendants were charged.
Legal experts say prosecutors are much more likely to pursue criminal cases against executives than they used to be.
"Whereas five or 10 years ago there might be cases that might not attract the government's attention, now we see the criminalization of allegations or actions that would have been left to the civil system," said David McAtee, a Dallas attorney who frequently represents corporations that are the focus of criminal investigations.
Some believe prosecutors' interest in such cases will be tempered in the coming years. In the 1980s, drug cases were big. In the 90s, health care fraud was a target. And today, motivated by public revulsion over wrongdoing among some of the country's richest, the focus is on corporate fraud.
"These things always kind of go in waves or cycles," said Randall Eliason, a former assistant U.S. attorney who now teaches law at American University. "As time and memories of these big scandals pass, you'll probably see resources shifted."
There's no indication that shift is yet underway, and Justice Department spokesman John Nowacki said corporate fraud prosecutions will continue. But that doesn't ease the anxiety of those who want to see corporate America cleaned up and for those who make a living defending those in the boardroom.
"My biggest fear in life is that the new director of the FBI would deprioritize white-collar crime," said Barry Minkow, who went to prison for corporate fraud but now runs the Fraud Discovery Institute to help executives spot such crime. "Behind every terrorist act there is white-collar crime."
Local journalism is essential.
Give directly to The Spokesman-Review's Northwest Passages community forums series -- which helps to offset the costs of several reporter and editor positions at the newspaper -- by using the easy options below. Gifts processed in this system are not tax deductible, but are predominately used to help meet the local financial requirements needed to receive national matching-grant funds.
Subscribe now to get breaking news alerts in your email inbox
Get breaking news delivered to your inbox as it happens.
---