Sports
49ers, Smith reach deal
Tue., July 26, 2005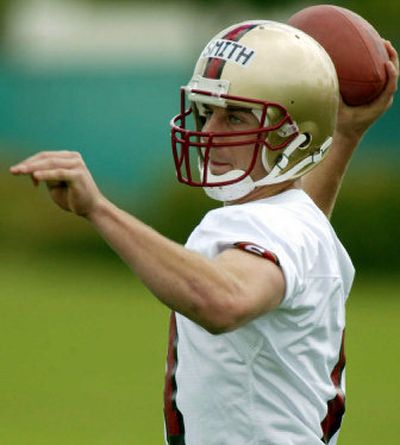 NEW YORK – Alex Smith, the first pick in April's draft, agreed to terms Monday on a six-year, $57 million deal with the San Francisco 49ers.
Smith will receive a guaranteed $24 million, a lawyer familiar with terms of the deal told the Associated Press on condition of anonymity.
The agreement is expected to set off a run of signings of first-round draft picks.
Prior to Smith, the only other first-rounder to agree to terms was offensive lineman Logan Mankins, taken by New England with the 32nd and last pick of the first round. His deal was announced Monday. Philadelphia announced a deal with first-round pick Mike Patterson later in the day.
Miami had been waiting for Smith to sign before completing its deal with running back Ronnie Brown, taken second overall. Brown is expected to start for the Dolphins, then could alternate with Ricky Williams, who sat out last season, when Williams returns from a drug suspension after the first four games of the season.
Williams reported to the Dolphins on Monday.
Smith, who is represented by Tom Condon, will get $4 million more guaranteed money than Eli Manning, last year's first pick overall, who received $20 million from the New York Giants. Manning also is represented by Condon.
Smith's deal, according to the lawyer, is expected to average $8.25 million compared to about $7.5 million for Manning.
The quarterback, who left Utah after his junior season, led the Utes to their first BCS bowl win, a victory over Pittsburgh in the Fiesta Bowl. They finished 12-0 and were ranked fourth in the Associated Press poll.
This past season, he completed 185 of 280 passes for 2,624 yards with 28 touchdowns and just four interceptions.
He is expected to compete immediately with Tim Rattay for the starting job with the 49ers, who finished 2-14 in 2004.
Local journalism is essential.
Give directly to The Spokesman-Review's Northwest Passages community forums series -- which helps to offset the costs of several reporter and editor positions at the newspaper -- by using the easy options below. Gifts processed in this system are not tax deductible, but are predominately used to help meet the local financial requirements needed to receive national matching-grant funds.
Subscribe to the sports newsletter
Get the day's top sports headlines and breaking news delivered to your inbox by subscribing here.
---