News > Spokane
Kidney donor saves a stranger
Tue., July 26, 2005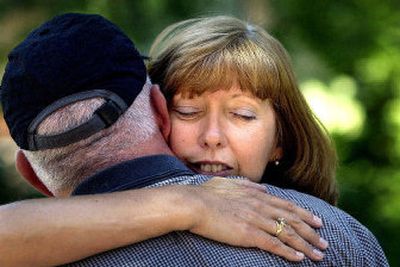 Karen Giesy wore a golden guardian-angel pin on her collar Monday.
But she didn't need it.
Her flesh-and-blood guardian angel stood right beside her, a 62-year-old retired Army medevac pilot in a three-button golf shirt and black slacks.
That man, James Seals, gave his left kidney to Giesy six weeks ago.
Until Monday, the two had never met or even known each other's name.
Seals is just one of about 300 living donors in the country who have given an organ to a stranger. He is the first altruistic donor from Sacred Heart Medical Center.
"Thank you so much," Giesy said as she and Seals embraced at a hospital-orchestrated meeting in the garden at the Providence Center for Faith and Healing. "You are wonderful. Are you feeling OK?"
In fact, Seals is feeling great, he said.
He's back to golfing and said he has regained about 80 percent of his stamina. But, more than that, "I'm not the same person I was prior to this," Seals said. "Emotionally and psychologically."
So, how does a healthy person – one who has never even had surgery before – decide to undergo a major operation to save the life of someone he never met?
For Seals, the seed was planted more than 30 years ago, when his brother-in-law suffered kidney failure and needed a transplant.
"I grew up with him, and I loved him very much," he said. "He was much more than a brother-in-law to me. I was so happy when he married my sister."
The man got his transplant and lived five more years before dying of pneumonia, Seals said.
Life went on for Seals. He had his wife, Ethel, and two children. He spent a year in Vietnam, flying wounded people from the battlefield to hospitals.
Then last winter, Seals watched a TV interview with a New York man who decided to donate a kidney to someone he did not know.
"That really touched my heart then, and I couldn't get that out of my mind," he said.
He told his wife of 44 years. He talked to his friends. And his children. He prayed about it at church.
And then he called the hospital.
"There's a strange thing in humans that once you know you need to do something and then you don't do it, there's a feeling like you're letting somebody down," he said. "The potential benefit to the quality of life for someone so far outweighed the potential risk to me."
Kidney transplants, unfortunately, run in 48-year-old Karen Giesy's family.
Giesy, just like all but one of her five siblings, suffers from polycystic kidney disease. The genetic disorder causes cysts to form on the kidneys, ultimately shutting them down, leading to dialysis and, eventually, transplant.
Two of her brothers have already had kidney transplants at Sacred Heart.
"I asked if they gave family discounts," she joked.
She started dialysis in March 2003, three times a week for nearly three hours each session. The treatments left her drained, but she continued work as a budget analyst for Glacier National Park.
To make matters worse, Giesy has the rarest of all blood types, type B. So doctors said she could expect to be on dialysis for five years before finding a match.
When the call came, she could hardly believe what she heard.
"This kidney's really for me?" she asked. "I'm like, 'For me? This is for me?'
"It was a total shock that someone would be willing to give up a kidney and that it matched me."
She came home and told her husband, Roger. They danced around the kitchen.
But the couple, who have been married 26 years and have two teenagers, have also endured the heartache of the transplant process.
In 1993, their 3 ½-year-old daughter died while waiting for a heart transplant.
The memory weighed on Roger Giesy's mind as his wife's surgery neared.
"We didn't win the first time with a transplant," he said.
Doctors, nurses, transplant coordinators and others gathered Monday to watch Seals walk down the garden path to meet the woman who now has his kidney. Some dabbed at tears as the two hugged and got to know each other.
And then came this realization:
They are practically neighbors.
"You live in Polson?" Giesy said. "We live in Whitefish."
Seals and Giesy both live in the Flathead Valley in northwest Montana. They say they'll certainly arrange another meeting once they get home.
Seals never intended to make his donation public. But when hospital officials told him his story could move others to consider organ donation, he agreed.
Right now, 173 people are on the waiting list for kidneys at Sacred Heart. And about 90,000 people are awaiting organs around the country.
"He gave to everybody on the list because it got (Giesy) off the list," said Jo Ann McCleary, a registered nurse and transplant coordinator.
Since Seals came forward, the hospital has created protocols for working with altruistic donors, McCleary said. All such potential donors will undergo extensive psychological evaluations. They'll be seen by an independent kidney specialist, one who's not treating the patient on the waiting list.
Altruistic donors must be asked, "What's the motive? Why do you want to do it?" she said.
Seals will always have three small scars and one larger one on his belly. And he'll have to watch his diet to make sure he never develops high blood pressure or diabetes, conditions that would be too taxing on his one kidney.
Giesy will need regular check-ups and will be on anti-rejection drugs the rest of her life.
Giesy prayed she would receive a kidney. That prayer was answered, of course. But she had another hope, as well, one which also came true.
"It was my prayer that someone didn't have to lose their life for me to have a kidney," she said.
Roger Giesy said he doesn't have the words to describe the magnitude of Seals' donation.
"You look at a gift like this and 'Thank you' doesn't seem to be enough," he said. "But at the same time, what more can you say?"
Local journalism is essential.
Give directly to The Spokesman-Review's Northwest Passages community forums series -- which helps to offset the costs of several reporter and editor positions at the newspaper -- by using the easy options below. Gifts processed in this system are not tax deductible, but are predominately used to help meet the local financial requirements needed to receive national matching-grant funds.
Subscribe now to get breaking news alerts in your email inbox
Get breaking news delivered to your inbox as it happens.
---