Sports
Lefty, Goosen shine at Bridges
Tue., July 26, 2005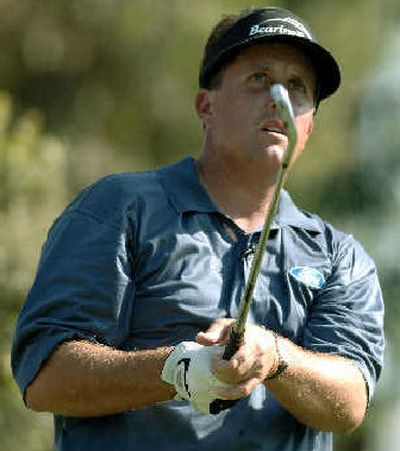 RANCHO SANTA FE, Calif. – The sun was just dipping below the horizon when Retief Goosen and Phil Mickelson turned out the lights on Tiger Woods, John Daly and Monday Night Golf.
Goosen, a late substitute for the foursome, birdied four of the last six holes and five overall as he and Mickelson beat Woods and Daly 5 and 3 in the "Battle at The Bridges" on Monday night.
"We got killed," said Woods, who was a loser in the seventh and final installment of Monday Night Golf, which was started to get him on prime time. He wants to take a break from these made-for-TV exhibitions — in which he was 4-3 — and focus on majors. He was playing eight days after his dominating British Open win. He also won the Masters and was second in the U.S. Open.
Organizers had portable lights set up on the 15th green and along the final three holes. But Goosen ended the match in the fading twilight when he hit an approach shot within 4 feet on the par-4, 411-yard 15th, then sank a birdie putt.
Woods and Daly needed to win the 15th to keep the best-ball match going, but both got into trouble with errant tee shots.
Organizers tried to get the Big Four for this year's exhibition, but Vijay Singh didn't want to play and Ernie Els pulled out. They had to settle for three of the top five in the world rankings plus the ever-popular Daly.
It turned out that Goosen was a perfect fill-in.
Daly and Goosen flew in from Germany on Sunday night after playing in the Players' Championship of Europe. Daly tied for third — he had to play 36 holes on Sunday — while Goosen missed the cut in the rain-delayed tournament, meaning he had to wait around a day for the 11-hour flight on Daly's private jet.
The exhibition at the exclusive Bridges club north of San Diego was fairly unremarkable until Goosen made consecutive birdie putts on the par-4 10th and the par-3 11th for a 3-up lead. Goosen had missed his first three greens.
Woods missed birdie putts on the same holes that would have kept his team in it.
It didn't hurt that Mickelson provided member knowledge. He belongs to The Bridges, where memberships start at $350,000.
Local journalism is essential.
Give directly to The Spokesman-Review's Northwest Passages community forums series -- which helps to offset the costs of several reporter and editor positions at the newspaper -- by using the easy options below. Gifts processed in this system are not tax deductible, but are predominately used to help meet the local financial requirements needed to receive national matching-grant funds.
Subscribe to the sports newsletter
Get the day's top sports headlines and breaking news delivered to your inbox by subscribing here.
---