News > Idaho
Motorists are going in circles
Tue., July 26, 2005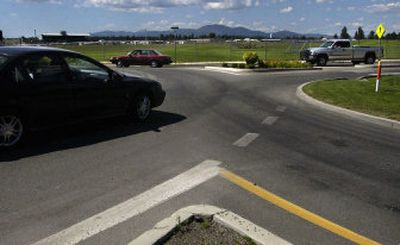 Robert Palus understands people's wariness of roundabouts.While driving in Lacey, Wash., six years ago, Palus came across one and wondered whose "harebrained" idea it was. Roundabouts surely cause more crashes, he thought.
Now Palus is known as "Roundabout Rob." He goes out of his way to use the one at Fourth Street and Kathleen Avenue in Coeur d'Alene, he said – a testament to his conversion. Palus, an assistant engineer for Post Falls, has pushed to install some roundabouts in the city in the near future.
"After people have driven through a roundabout," Palus said, "they tend to be more supportive because they do notice the improved efficiency."
Because of their design, roundabouts allow for a constant flow of traffic as opposed to stop signs and traffic lights. They're good tools for intersections of arterials and collectors, Palus said.
Poleline Avenue – where most of the planned single-lane roundabouts will be – is suited for them, Palus said, because as the land on each side of the avenue is developed, traffic will increase. Roundabouts take up more space than other traffic-control methods – single-lane roundabouts can range from 100 feet to 130 feet in diameter – so they are more difficult to install in already developed areas.
Roundabouts' shape fosters safety. "You're forced by the geometrics to go slow," Palus said. The recommended maximum speed for a single-lane roundabout is 20 mph, according to the Federal Highway Administration's informational guide.
The modern roundabout was developed in the 1960s and has gained popularity over the past 15 years. Roundabouts can be spotted in the Northwest in Spokane, the Tri-Cities, Olympia, Seattle and Portland.
They shouldn't be confused, Palus said, with rotaries or traffic circles that are larger and gained bad reputations for allowing high speeds.
The highway administration looked at crash frequencies at 11 intersections that had been converted to roundabouts. For single-lane roundabouts, the number of injury crashes decreased 73 percent and the number of crashes resulting in property damage decreased 32 percent. Injuries caused by accidents in roundabouts also tend to be less serious because the collisions aren't head-on.
Still, drivers unfamiliar with roundabouts can be unsure how to enter and exit them.
Michael LoBue, a Post Falls resident who responded to an inquiry from The Spokesman-Review, said roundabouts are "an accident waiting to happen."
"Some people get confused as to who has the right of way," LoBue wrote in an e-mail message.
Closer to construction time, the city of Post Falls will make information available to drivers, Palus said, and may hold an open house to respond to questions like LoBue's. (Answer: Drivers already in the circle have the right of way.)
Two prospective roundabouts are being designed: one in the Fieldstone subdivision at Syringa Street and Bogie Avenue and one at Poleline Avenue and Syringa Street, which is on the main route to Post Falls High School and Prairie View Elementary School.
The city of Post Falls is looking into incorporating information about roundabouts in the school district's driver's education classes.
The Idaho Transportation Department's drivers manual does not reference roundabouts. But as they become more widely used in the state, said spokesman Mel Coulter, the department plans to include explanations of how to use them.
Spokane is constructing a roundabout at Wellesley Avenue and A Street.
Wellesley has more traffic than A Street, so drivers might get impatient if they had to pause at a stop sign or traffic light while no vehicles are on the other road, said Tom Arnold, director of the city's engineering services. That intersection has been the site of many crashes partly because of the traffic imbalance, Arnold said.
"A roundabout does well," he said, "because it's self-mechanizing."
Another roundabout is being designed for Crestline Street at Lincoln Road; construction may begin next year.
Coeur d'Alene has had a good experience with roundabouts, said Dick Suchocki, project manager of the Coeur d'Alene city engineering team. They are safer for pedestrians because of the reduced speeds, are less costly than traffic signals and require less maintenance, he said.
"The biggest issue with roundabouts is that there is a learning curve," said Suchocki, who noted that drivers aren't used to seeing them in this part of the country.
Like others, he pointed out that yielding to drivers in the circle is the key to using a roundabout correctly.
"Once people start using them, they see how easy it is to get through them," Suchocki said. "And they begin to like them, actually."
Local journalism is essential.
Give directly to The Spokesman-Review's Northwest Passages community forums series -- which helps to offset the costs of several reporter and editor positions at the newspaper -- by using the easy options below. Gifts processed in this system are not tax deductible, but are predominately used to help meet the local financial requirements needed to receive national matching-grant funds.
Subscribe now to get breaking news alerts in your email inbox
Get breaking news delivered to your inbox as it happens.
---