News > Nation/World
Relief is near for Midwest
Tue., July 26, 2005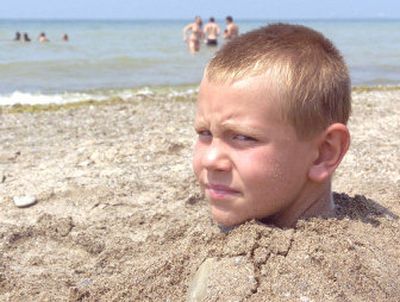 PEORIA, Ill. – Enough, Sherri Ball said, was enough.
After sweating out a weekend of soaring temperatures that overwhelmed her small window air conditioner, the 46-year-old beat a path Monday to a cooling center set up by authorities at the Peoria Civic Center.
"I can't breathe when it's real hot outside," Ball said after joining other heat-weary residents seeking to escape nearly triple digit temperatures, a day after the mercury topped 100 degrees in Peoria for the first time in a decade.
The suffering Monday wasn't confined to Illinois. A large swath of the United States suffered through another miserable day of sizzling temperatures and steamy humidity – a deadly heat wave that had people cranking up air conditioners, scrambling to cooling shelters and running through sprinklers in the park.
Temperatures soared past 100 in several cities, and the National Weather Service posted excessive heat warnings and advisories from Illinois to Louisiana and from Nebraska to the District of Columbia.
"It feels like basically just walking around in an oven," said 20-year-old McDarren Paschal as he mowed grass at Sinclair Community College in Dayton, Ohio.
City workers in Chicago checked on elderly residents and shuttled people to cooling centers Monday, hoping to avoid a repeat of a disastrous 1995 heat wave that killed 700 people. Wilmington, Del., set up sprinklers in city parks so people could run through the spray to cool off. A social service agency in Oklahoma City handed out fans to elderly people who didn't have air conditioning.
In other states, at least three deaths have been blamed on the heat in Missouri this summer, and authorities were looking into the death of a woman found Sunday in a home without air conditioning. Four people have died of the heat in Oklahoma, two of them young children left in cars, and at least three heat deaths have been tallied in New Jersey.
Some 200 cities in the West hit daily record highs last week, including Las Vegas at 117, and Death Valley soared to 129, the weather service said.
A break in the heat was on the way, at least for the Midwest.
A cold front brought rain Monday to parts of Iowa, Minnesota and Wisconsin, and was on its way to crossing Illinois, Missouri and Indiana today, said Ed Shimmon, a weather service meteorologist in Lincoln, Ill. He said rainfall will likely be scattered but still welcome in the drought-stricken region.
Demand for electricity to run air conditioners has hit near-record peaks from Southern California to the region served by the Tennessee Valley Authority.
The load on generators caused a power outage in St. Louis County, Mo., where more than 900 customers were still without electricity Monday.
Local journalism is essential.
Give directly to The Spokesman-Review's Northwest Passages community forums series -- which helps to offset the costs of several reporter and editor positions at the newspaper -- by using the easy options below. Gifts processed in this system are not tax deductible, but are predominately used to help meet the local financial requirements needed to receive national matching-grant funds.
Subscribe now to get breaking news alerts in your email inbox
Get breaking news delivered to your inbox as it happens.
---