News > Spokane
Retirement center gets financial makeover
Tue., July 26, 2005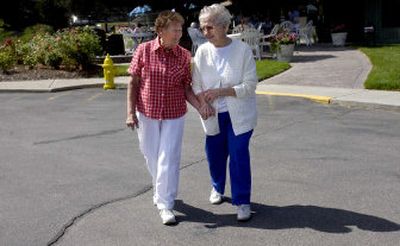 Residents of a Spokane Valley retirement center recently approved an innovative agreement that solved financial problems and created affordable senior housing.
After more than two years of meetings, Holman Gardens Retirement Community residents unanimously agreed to convert 96 units – where original buy-in contracts had ranged from $55,000 to $90,000 – to rental apartments.
"It took a lot of explaining. Sometimes it didn't make sense. In the end, we were quite pleased with it," said Odin Baugh, an 86-year-old retired pastor from Opportunity Presbyterian Church who lives at the center.
Half the apartments will rent for below average rates, based on income. One-bedroom units will start at $711 a month, including a meal a day, rides, a swimming pool, billiard parlor and other amenities. Other tenants will pay much more – though not above market rate for units with similar amenities.
The conversion allows the facility to compete with retirement complexes that don't require buy-ins.
"Everybody has their money, and we're almost completely at 100 percent rental now," said Glen Pierce, CEO of Spokane Baptist Association Homes, a non-profit organization that runs Holman Gardens and North Spokane's Lilac Plaza Retirement Community.
Ninety-five residents of the center at 12th Avenue and McDonald Road surrendered their buy-in contracts (a lifelong rights agreement) for $4.2 million in returned fees.
The conversion secured their nest eggs and bolstered the facility, which is adding housekeeping services and doing updates.
"We were able to get our money back and not have to wait. Now we've all been paid off and we have no worries," said Dorothy Phillips, 86.
SBAH worked with Community Frameworks, an organization that helps non-profits establish affordable housing.
Residents were educated at town hall and individual meetings. Pierce and Linda Hubble, Holman Gardens' director, met privately with seniors, their families, attorneys and financial planners.
Because the agreement relied on resident approval, most banks wouldn't touch it, Pierce said. "Two years ago the first thing they said was, 'This is out of the box, you'll never get it done.' "
Several financial institutions stepped up, including Sterling Savings Bank, Impact Capital and CWCapital, a national lender that works with HUD and Fannie Mae to fund senior housing.
The project is – if not the very first – one of the first of its kind nationwide, said Sunny Worsley, a CWCapital staffer who worked on Holman Gardens' financing. "No one in my company has ever seen this," she said.
Converting the facility required nearly universal resident support, Pierce explained. Under the original contract, departing residents received 85 percent of their buy-in fee after someone else moved into their apartment. They also paid $804 to $1,010 in monthly fees for a single person in a one-room unit.
Offering affordable units was crucial in converting to rentals, because about half the residents are low-income, he said, and because of the association's mission to serve seniors of all incomes.
Three agreements were devised based on income tiers.
One group received less than 85 percent of their buy-in, but got reduced monthly fees. Others received the full 85 percent but doubled their rent. Another took less than 85 percent initial buy-in and their monthly fees remained the same.
"I was willing to take a decrease because I feel in the long run, in the next two years, I would have benefited greatly by keeping the cost down," said Phillips said.
The facility needed change because retirement trends changed since it was built 21 years ago, Pierce said.
People once moved to Holman Gardens in their 70s and stayed long-term.
Today, seniors live at home longer, move in when they hit their 80s and stay for shorter periods.
As a result, they don't want to pay high up-front costs.
In the past few years, vacancies increased and the center lost out on monthly maintenance fees. Seniors moving out of Holman Gardens and into expensive assisted living facilities were waiting about 18 months to recoup thousands of dollars. "They leave here for a higher level of care and they needed their money desperately and we couldn't even get it to them," Pierce said.
In the end the conversion created affordable housing and may be a model for other centers. Pierce has been asked to speak at two conferences.
For Baugh and other Holman Gardens residents, the move let them pocket a chunk of security while preserving a way of life.
"We don't have to go out and wash our windows. We don't have to go out and mow the lawn," he said. "There's a lot of things we're happy about."
Local journalism is essential.
Give directly to The Spokesman-Review's Northwest Passages community forums series -- which helps to offset the costs of several reporter and editor positions at the newspaper -- by using the easy options below. Gifts processed in this system are not tax deductible, but are predominately used to help meet the local financial requirements needed to receive national matching-grant funds.
Subscribe now to get breaking news alerts in your email inbox
Get breaking news delivered to your inbox as it happens.
---