Sports
Sosa trudges along
Tue., July 26, 2005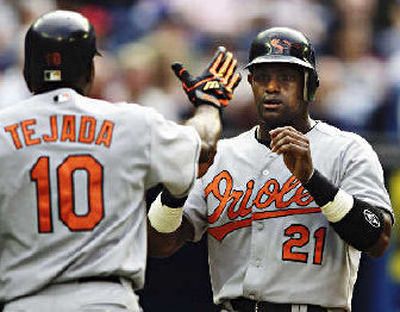 ST. PETERSBURG, Fla. – The bounce step punctuating his celestial home runs is gone, simply because there is a scarcity of home runs to celebrate.
The smile resurfaces now and then – you remember the one that lit up the summer of 1998, when he and Mark McGwire were chasing history. But perhaps it only masks the heartache burning inside.
Meet Struggling Sammy Sosa, the $17.875-million hole in the Baltimore Orioles lineup.
Numbers that once validated his greatness now mock him. The sixth-most prodigious home-run hitter in baseball history has hit only 11 of them this season, or two more than Orioles backup catcher Sal Fasaro.
Despite a modest eight-game hitting streak that ended in Monday's loss to Texas, Sosa is well below the great expectations he has set for himself in 16 previous seasons.
At one point in late June and early July, Sosa was in the throes of a 1-for-37 slump. Later in July, he would fail to drive in a run for 12 consecutive games – his longest RBI drought in 13 years.
The Orioles don't know quite what to do with him, bouncing him from cleanup to sixth. To ease the physical demands on Sosa, O's Manager Lee Mazzilli has scratched Sosa from his outfield position and switched him to designated hitter.
A lineup stacked with talent has helped protect Sosa from greater embarrassment, though the albatross of injuries and under-achievement remain a pervasive theme in Baltimore and visiting cities.
They've got his back on and off the field, deflecting the criticism and damning evidence that is piling on against Sosa.
"He works hard and he'll come out of it," Orioles first baseman Rafael Palmeiro said. "He's been a great player and he knows what he can do."
Sosa declined an interview request Friday afternoon with a polite, "Not now. Let me see what I can do, my friend."
Sosa's reticence is understandable. He is clued in enough to know what's coming from the inquisitors.
Why are you struggling so?
How do you address insinuations that there is a direct correlation between the steep drop in your numbers and the increased vigilance in steroids testing?
Has there been a significant dip in your bat speed?
At 36, are you simply at the end of the road?
His struggles contrast with the optimistic spin in the offseason, when Sosa's strained relationship with the Chicago Cubs reached an acrimonious ending after 13 years. He was traded to the Orioles for Jerry Hairston Jr. and two minor-leaguers in early February.
Sosa was happy to leave Chicago in his rear-view mirror, saying adios to a tarnished resume that included innuendoes of steroid use, his corked-bat controversy and his label as a "cancer" in the clubhouse.
Sosa missed 16 games in May with a staph infection in his foot, and hasn't been very good after returning despite his mini-surge of sorts. He was hitting .236, with only 34 RBIs.
"He's starting to come out of it," Mazzilli said. "I think there was an adjustment period coming over to this league as well. The second half will be much improved over the first half. You're talking about a Hall of Fame player and this is the largest stretch he has gone (in a slump), and he has to make an adjustment."
Local journalism is essential.
Give directly to The Spokesman-Review's Northwest Passages community forums series -- which helps to offset the costs of several reporter and editor positions at the newspaper -- by using the easy options below. Gifts processed in this system are not tax deductible, but are predominately used to help meet the local financial requirements needed to receive national matching-grant funds.
Subscribe to the sports newsletter
Get the day's top sports headlines and breaking news delivered to your inbox by subscribing here.
---